Sprinkler plans for North Lanarkshire tower blocks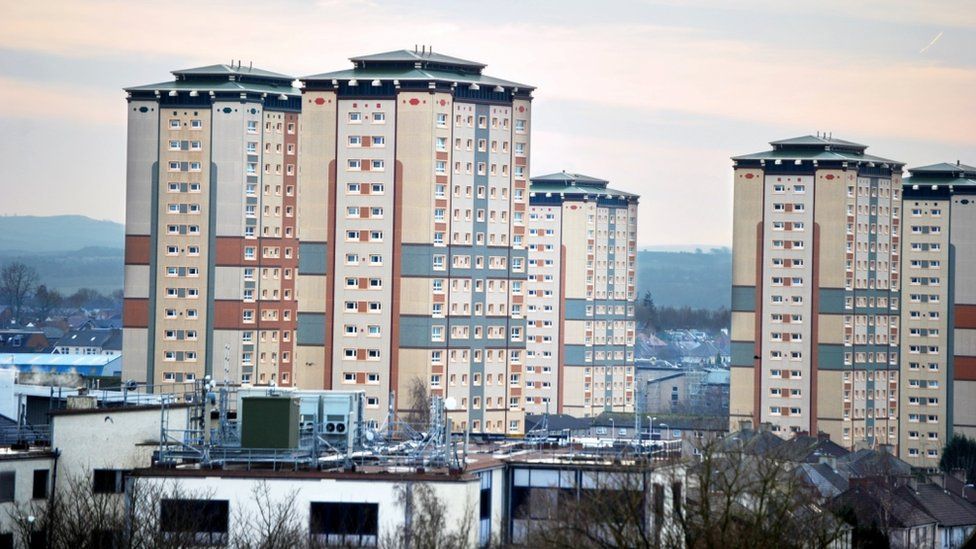 Sprinkler systems could be fitted in 48 tower blocks, under new plans drawn up by a Scottish council.
North Lanarkshire Council has proposed installing the potentially life-saving devices in 4,000 high-rise homes - at a cost of around £10m.
Last year a BBC Scotland investigation in the wake of the Grenfell Tower disaster revealed that 300 Scottish tower blocks did not have sprinklers.
Council chiefs said sprinklers would minimise the risk of fire in homes.
By law, every high rise in Scotland built since 2005 must be fitted with sprinklers but there is no obligation on councils or social landlords to retrofit the systems in older tower blocks.
Councillors will consider the sprinkler installation plan at a meeting of the authority's enterprise and housing resources committee next week.
Des Murray, the council's assistant chief executive, said minimising risk in the tower blocks was "an absolute priority".
"We began our examination of towers in 2016 and have concluded that - while our fire safety arrangements are robust - the installation of sprinklers will further enhance safety and provide additional reassurance," he added.
Council leaders have suggested replacing the tower blocks with low-rise buildings.
Mr Murray said: "These are part of ambitious plans to provide better homes for people, regenerate town centres and create jobs and are separate to our plans to increase fire safety in the short term.
"Given that some towers will remain over the next two decades it's important that we consider the fire safety implications during that period.
"In line with guidance from Scottish Fire and Rescue, we have developed robust fire and safety procedures to help safeguard those living in our high rise accommodation. This includes our caretakers being fully fire warden trained, safety guidance issued to all residents and regular fire risk assessments carried out.
"We are absolutely committed to providing them with all necessary precautions to minimise the risk of fire and we will continue to work closely with our tenants, and the fire service to ensure our towers are a safe environment for people to live in."
According to the National Fire Chiefs Scotland, sprinklers are the most effective way of ensuring the fires are suppressed or extinguished before the fire service arrives.
Brian Sweeney, the former head of Strathclyde Fire and Rescue Service, has said he believes a sprinkler system would have prevented the Grenfell Tower tragedy.