'Suffragettes' lead women's march for equal pay in Glasgow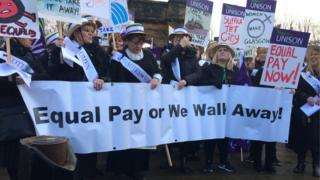 Hundreds of women have taken part in a march to put pressure on Glasgow City Council over equal pay.
The union, Unison, organised the demonstration at Glasgow Green to urge the authority to honour a pledge to settle equal pay issues.
The Equal Pay - or We Walk Away protesters marched to George Square, led by women dressed as suffragettes.
The council is currently considering how to settle 11,000 claims for past discrimination against female workers.
The city council has agreed not to appeal against a court decision last year over the grading system and will now discuss a settlement with unions.
The women involved are from Unison's equal pay campaign.
Having won their legal case, the council employees are now demanding a fair and transparent pay and grading scheme and full compensation for the pay they have been denied.
Glasgow City Council has agreed to "negotiation not litigation" and to discuss a settlement with Unison and other trade unions.
Unison Glasgow city branch chairwoman Carol Ball said: "This is not about robbing Peter to pay Pauline.
"It's about equality and justice.
"We must focus on delivering equal pay now and in the future.
"The council did not want to pay the cost of equality in 2006 and ordinary working people of Glasgow should not have to pay the price of inequality with loss of jobs and services.
"This will be one of the largest redistributions of wealth in the history of Glasgow.
"We are rightly putting money in the pockets of Glasgow's low paid women."