Scots Sikh Jagtar Singh Johal 'to be moved to Delhi jail'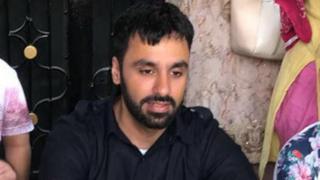 The lawyer for a Scotsman held without charge in India for 100 days says he will fight plans for him to be moved.
Since his arrest in November, Jagtar Singh Johal has regularly appeared in court in Punjab accused of murder and conspiracy to murder.
The National Investigating Agency (NIA) now wants to move him from Punjab Nabha jail to Delhi's Tihar jail.
The Indian government has approved the move of the 30-year-old Sikh and his fellow accused.
The NIA has claimed there is "desperate threat" to the life of the Dumbarton man and has asked the Special Court in Mohali to allow the transfer to go ahead.
'Safety and security'
But Mr Johal's lawyer, Jaspal Singh Manjpur, who is also representing other accused, has denied any threat to them and said the latest move was just another way to "harass".
He told the BBC: "We shall be filing our reply to the court in next couple of days on these lines.
"The accused have a right to stay in places near to their home so that their family members can meet them."
In its application to the court, the NIA said: "Inputs have been received from various sources that there is desperate threat to the life/safety of the accused persons.
"So faced with the sole purpose of protecting the fundamental rights of the accused as enshrined in article 21 of the Constitution of India we have taken a conscious decision for the safety and security of the accused persons."
Sikh activist Mr Johal was arrested in Punjab on 4 November, just over a fortnight after his wedding.
He has been accused of conspiracy to murder Hindu leaders and being involved in the murder of a Christian priest.
Torture claims
Indian authorities said he was being investigated under seven counts of aiding and abetting murder.
"Free Jaggi Now" campaigners say Mr Johal has suffered torture in the 100 days he has been held without charge.
They claim he has had limited access to his family and to a lawyer, and also that their reports of torture to the authorities have not been investigated.
At a press conference to mark the 100-day milestone, Mr Johal's brother, Gurpreet Singh Johal, said: "Jaggi needs to be brought back to his family, to where he was brought up.
"He has not done anything wrong.
"If he had done something wrong then the authorities would have charged him by now.
"A hundred days have elapsed and no charge has been filed. Instead the Indian authorities have sought another 90 days."
The Indian High Commission says the case against Mr Johal is following due process.