Carers recorded in secret after suspicions of abuse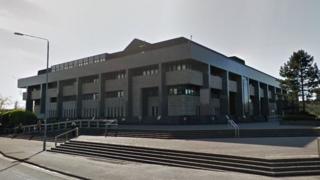 A woman set up secret recordings of carers looking after her severely disabled sister, a court has heard.
Anne-Marie Kernoghan became suspicious after finding a baby monitor she had bought to monitor her 41-year-old sister Mary Ann Caldwell's epileptic fits was unplugged.
She told a court she heard carers make derogatory comments, make abusive remarks and ignore her sister.
Six carers deny all the charges against them.
Catherine Kilcullen, 62, Allison Carr, 51, Dianne McGarr, 48, Julie Rundell, 36, Marie Paterson, 64, and Linda Smith, 60, face a total of six charges.
They are accused of carrying out threatening and abusive behaviour at a property in Barlanark, Glasgow, between February and April 2015.
A seventh carer, Isabella Scott, was accused of assault, "wrapping a vest or similar item" round Mary Ann Caldwell's hand, but her not guilty plea was accepted and she was acquitted of the charge.
Mrs Kernoghan, 57, lives with her younger sister Mary Ann Caldwell, who has complex disabilities and relies on carers.
After becoming suspicious, she recorded the carers on USB sticks hidden in wall lamps.
She claimed she also heard discussions about other carers' sex lives.
'Covered in blood'
Glasgow Sheriff Court heard Mary Ann has lived in the family home since she was born and is unable to walk or speak or do anything for herself, her disability is likened to Cerebral Palsy.
Mrs Kernoghan told how at that time Community Lifestyle were recommended by the social work department and were providing Mary Ann with three lots of carers daily to tend to her needs.
Mrs Kernoghan said Mary Ann had been having a lot of epileptic fits and seemed "down".
She said that one morning after finding her "covered in blood" she bought a baby monitor so she could tend to her sister during the night if there was a problem.
The court heard the carers were told about the monitor and afterwards Mrs Kernoghan found it unplugged, on a few occasions.
She said their sister Helen suggested recording the women.
Sister 'ignored'
Mrs Kernoghan said: "In the back of my head there was something not right."
In evidence Mary Ann's sister alleged Marie Paterson "swore constantly" and alleged she heard her saying to Mary Ann on one occasion that she wasn't going to give her a bath or wash her.
The witness said her sister "cried out" and was ignored and that Ms Paterson rubbed her face and said "that will shut you up for five minutes".
She said in February they started recording and on Easter Monday she went to Shettleston police station after listening to what had been picked up.
The six women deny the charges and the trial before Sheriff Gillian Bryson continues.