Sciaf launches annual Wee Box appeal to help world's poor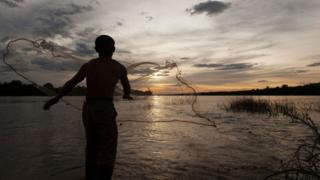 Young musicians helped launch an aid agency's annual appeal to aid some of the world's poorest people.
The Scottish Catholic International Aid Fund's (Sciaf) Wee Box campaign will this year focus on Cambodia.
As the Lenten fundraising drive got under way, an 18-strong band from St Maurice's High School, Cumbernauld, entertained shoppers in Glasgow.
The appeal has been boosted by the UK government's commitment to double all donations received before 8 May.
Sciaf director Alistair Dutton praised the pupils - who raised £5,000 last year - and hailed the significance of the support from the Department for International Development (DfID).
He said: "I urge everyone to take advantage of this fantastic opportunity and make their money go twice as far.
"It really will help change the lives of some of the poorest people in the world."
Donations doubled
International Development Secretary Penny Mordaunt said it was vital to help impoverished communities overcome the challenges they face so they can become self sufficient.
She added: "Sciaf's Wee Box appeal is doing just that by protecting the rights of fishermen and farmers in Cambodia and giving them the tools they need to boost their incomes and support their families.
"Every donation made by the generous British public to Sciaf's Wee Box appeal will once again be matched pound for pound by the UK government, to help some of the most vulnerable people around the world lift themselves out of poverty."
The appeal encourages people to give up something for Lent and then put the money saved in a Wee Box to help fund the charity's life-saving work overseas.
This year the campaign highlights the impact of illegal fishing in Stung Treng, one of the poorest provinces in Cambodia.
Locals were struggling to feed themselves as criminal gangs were using dynamite and electrocution to harvest huge numbers of fish.
Lang Phong, his wife Toma and their five children were experiencing food shortages as stocks were as low as 50% until Sciaf and its local partner intervened.
Life-changing support
The Glasgow-based aid agency helped the family and their neighbours form a community fishing association and set up regular patrols of the river.
The Langs, who feature on the 2018 Wee Box, also received training in how to increase their rice harvests so they could support themselves all year round.
Sciaf said the additional funding from the UK government would help 20,000 Cambodians affected by poverty, illegal fishing and land-grabbing in 50 villages.
Previous Aid Match money has helped the charity provide life-changing practical support to cattle herders in Ethiopia and women farmers in Malawi, Rwanda and the Democratic Republic of Congo.