Opponents lose Jordanhill legal bid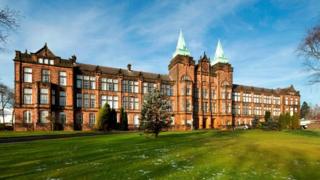 Residents opposed to a £100m housing development at a Glaswegian historical landmark have lost their legal action to stop the proposal.
Jordanhill Community Council members hoped to overturn the decision made by Glasgow City Council in January 2017.
The plans will result in 412 homes being built on the grounds of Strathclyde University's former Jordanhill Campus.
Opponents unsuccessfully argued that the council failed to follow procedure.
The Court of Session was told that Glasgow City Council's (GCC) decision to allow the development should be overturned because they had not followed correct legal procedures.
Lawyers argued that there had been "significant changes" in the plans between 2011 - when the matter was first raised at GCC- and 2017.
They argued that developers Cala Homes had reduced the amount of green space that they had committed not to build on.
However, GCC's legal team said that the amount of protected green space had not changed.
The residents also argued that the councillors had not properly considered transport links between the new development and the rest of the city.
However, in a ruling issued on Wednesday, judge Lady Wolffe concluded that the council had acted correctly and dismissed the case.
She wrote: "As I have found no errors as alleged on the part of the council, even if there were an issue about the assessment of traffic impact, this is not relevant or sufficient for the purposes of the remedies the petitioners seek.
"The principal factual premise of the green space challenge is not well founded."
Historic campus
The case came to court after about 900 objections to the plans were lodged.
Jordanhill was most recently used by Strathclyde University for its Faculty of Education. The campus covers a 30.9 acre site.
A soldier named Thomas Crawford - who led the capture of Dumbarton Castle in 1571 - first built a house on the site in the 16th Century.
In 1750, the Crawford family sold Jordanhill to tobacco lord Alexander Houston.
Lady Wolffe concluded that Glasgow City Council had acted lawfully and that the January 2017 decision should continue to stand.
Disappointed campaigners said the council had "failed our community".
Prof John Winfield, the community council's chairman said: "While disappointed with the ultimate verdict, we believe we have exposed a flawed planning system that is not fit for purpose and works against communities rather than with and for them."