Abuse case collapses over 'insufficiency of evidence'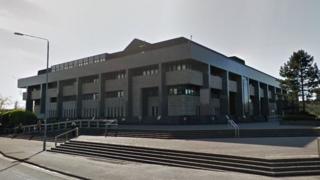 Six carers have walked free from court cleared of a string of charges of threatening and abusive behaviour.
On the third day of the trial at Glasgow Sheriff Court, prosecutors stopped leading evidence.
The women were accused behaving in a threatening or abusive manner between February and April 2015.
At the time of the alleged offences they were carers for Mary Ann Caldwell, 41, who is severely disabled, at her house in Barlanark, Glasgow.
Catherine Kilcullen, 62, Allison Carr, 51, Dianne McGarr, 48, Julie Rundell, 36, Marie Paterson, 64, and Linda Smith, 60 had denied all the charges.
Prosecutors confirmed they were unable to carry on while Mary Ann's sister, Anne-Marie Kernoghan, was giving evidence.
'Mocked and abused'
Douglas McAllister, representing Ms Kilcullen, said there was an insufficiency of evidence and made a no case to answer submission that was adopted by the other lawyers.
Sheriff Gillian Bryson told the women: "I am required to find each of you not guilty."
Earlier in her evidence, Mrs Kernoghan told how she had planted recording devices in wall lamps in the house to secretly record the carers,
She claimed she heard them talking in a derogatory manner about other clients.
She also said her sister was "mocked and abused".