Call to remove sex offender from iconic subway mural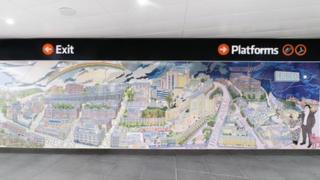 An MSP has called for a famous Alasdair Gray mural to be altered after it emerged it now features a convicted sex offender.
Sandra White spoke out after the artist confirmed David Fagan, former vice-chairman of Strathclyde Partnership for Transport, is depicted in the work.
Fagan was recently convicted of sharing child rape fantasies online with an undercover police officer.
SPT said it was unaware Fagan featured on the 40ft mural until this week.
Ms White told BBC Scotland: "Alasdair Gray's mural is a much-loved piece of public art in Glasgow.
"It is now safe to say that SPT are faced with a conundrum on how to resolve this sensitive situation.
"If there is any way in which Mr Fagan could be removed from the artwork, without disturbing the rest, I would be supportive of that.
"Could Alasdair work his magic to change who's in it, perhaps?"
The Glasgow Kelvin SNP MSP hailed the significance of the mural but said it cannot be viewed in the same light following Fagan's conviction.
She added: "When the work was commissioned it was done with the best of intentions and instantly became much loved due to its reference of not just local buildings but also local people.
"With people who worked and lived in the area being depicted it instantly felt part of the fabric of Hillhead.
"But it is concerning to learn that someone has been immortalised who has now been convicted of such a heinous crime.
"Certainly I would like something to be done to remove him."
Studio visit
Mr Gray confirmed Fagan features in the All Kinds of Folks mural, which was unveiled in 2012.
He told The Herald newspaper: "He (Fagan) was one of the committee that commissioned it.
"I wanted to put in some of the people that had a hand in it.
"I did put other people in too, including a street sweeper and a Big Issue seller."
Asked about Fagan's court case, Mr Gray replied: "I did not know about that.
"I am sorry to hear that."
The artist's assistant, Lin Chau, also said Fagan was part of the mural as he played a major role in its creation.
She also confirmed Fagan visited Mr Gray's studio during its creation.
'High risk'
An SPT spokeswoman said: "If the artist has now confirmed the representation in the mural is Mr Fagan, this is not something SPT has previously been aware of and we will now discuss this with the artist."
Fagan was chairman of SPT's design advisory group in 2010 when it commissioned the £23,000 mural.
Earlier this month Airdrie Sheriff Court heard Fagan told an undercover police officer he wanted to rape a child and sent her messages about incest and abuse.
The father-of-two shared his fantasies with the officer, who posed as a 40-year-old mother-of-three from London.
Former Labour councillor Fagan, who was arrested in 2016, was classified as "high risk" by Police Scotland.