Sir Billy Connolly joins Nelson Mandela statue campaign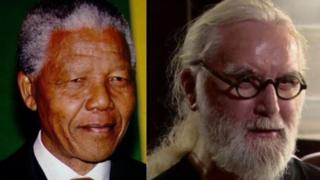 Sir Billy Connolly has joined a campaign to raise money for a Nelson Mandela statue in Glasgow.
The Big Yin is backing a bid to raise £250,000 money for the tribute to the late South African president.
He joins fellow Freemen of the City of Glasgow Sir Alex Ferguson, Kenny Dalglish and Lord MacFarlane of Bearsden as a patron of the Nelson Mandela Scottish Memorial Foundation.
This year marks the centenary of Mandela's birth.
The charitable foundation aims to commission a memorial and deliver associated educational programmes.
Planning permission is already in place for a statue at the city's Nelson Mandela Place.
Imprisoned for 27 years for his resistance to apartheid, the South African leader was made a Freeman of the City of Glasgow in 1981, while still in jail.
'Historic moment'
Later that year Glasgow's Lord Provost Michael Kelly launched a worldwide Lord Mayors' petition calling for the release of Nelson Mandela at the United Nations in New York. The petition was signed by thousands of mayors, contributing to the global movement to secure his freedom.
Mandela was finally released from jail on Sunday 11 February 1990. This weekend marks the 28th anniversary of that historic moment.
In 1993 Mandela collected his honour in person addressing an enthusiastic crowd of 15,000 in George Square.
Sir Billy Connolly CBE said: "I am honoured and delighted to join the impressive line-up of worthy Glaswegians as a patron of the campaign to build a statue to Nelson Mandela in Glasgow. I met Mr. Mandela in Oslo, Norway, where he received the Nobel Peace Prize. He left an impression on me that I will never forget."
The foundation was launched on 9 October last year to coincide with the 24th anniversary of Mandela's visit to Glasgow by patrons Sir Alex Ferguson and Lord Provost Eva Bolander alongside Brian Filling, chairman of the Nelson Mandela Scottish Memorial Foundation and honorary consul for South Africa.
The Lord Provost said: "Naturally, I'm thrilled that Sir Billy is supporting the foundation. It's wonderful to have him on board. I'm incredibly proud of Glasgow's brave history of condemnation of the cruel incarceration of the late, great Nelson Mandela and its steadfast and principled stand against apartheid."
Mandela was among those who congratulated Sir Billy Connolly when he was made a Freeman in 2010.