Care Inspectorate asks courts to close Newton Mearns home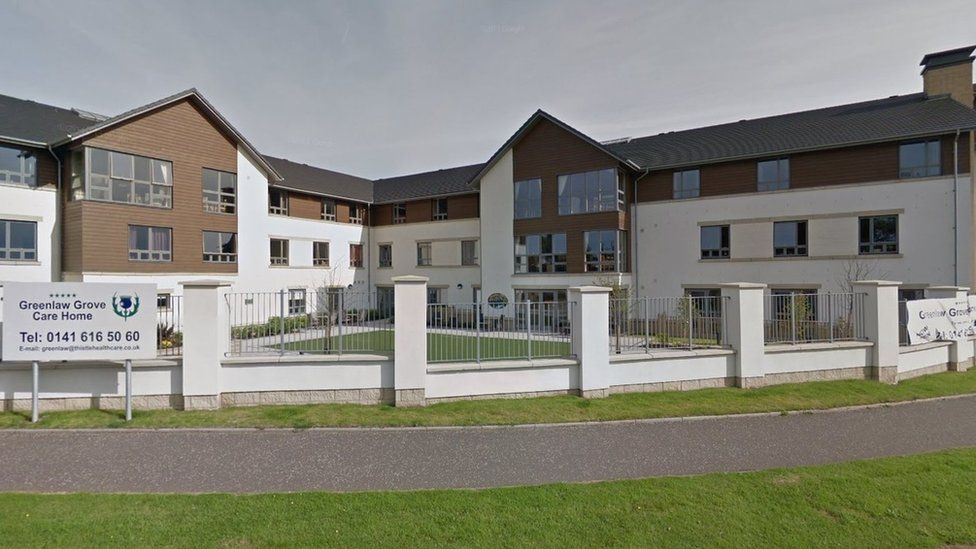 The Care Inspectorate has applied to a court to close down a care home in East Renfrewshire in order to protect the health and safety of residents.
However, the Care Inspectorate said sufficient progress had not been made.
A spokesman for Greenlaw Grove said any families who were concerned about the situation should get in contact.
He added: "We're sorry for the distress experienced by families during this time, and we will provide every assistance to anyone who wishes to relocate relatives."
The home, which can house about 60 residents, opened in January 2015 and described itself as a "new concept in total care" for older people.
However, an improvement notice was served last year. Greenlaw Grove responded by saying it had "taken swift action to put things right".
In light of the concerns East Renfrewshire Council has cancelled its care contract with the home.
And now the Care Inspectorate has applied to Hamilton Sheriff Court to have the home shut down, citing an "unacceptable quality of care, leadership, staffing and environment".
A spokesman said: "Despite extensive involvement and support from the East Renfrewshire health and social care partnership, and inspectors, we are not satisfied that sufficient progress has been made by this care provider.
"This is not action we take lightly but is essential to protect the health, safety and wellbeing of residents.
"We realise this is a difficult and worrying time for residents and their families and will continue to work with the partnership and the care provider to ensure that suitable alternative care arrangements are put in place and to ensure the health, safety and wellbeing of residents during the coming weeks remains paramount."
East Renfrewshire Health and Social Care Partnership said the wellbeing of residents was an "absolute priority".
It said it has been working, alongside others, to encourage Greenlaw Grove to make the required improvements.
A spokeswoman said: "We increased our monitoring activity and have had staff in the home at an increased frequency - including nurses, social workers and contract management colleagues.
"In doing so we've liaised closely with families, residents' representatives and where appropriate, residents themselves. We've also continued to meet with care home owners and managers regularly to highlight where concerns remained.
"Despite this, care standards remain poor and inconsistent and not of the quality we expect from care homes operating in East Renfrewshire."
She added: "We are aware this will be an upsetting and unsettling time for residents and their families, and we will continue to work with them and with the care home provider to ensure the wellbeing of all residents is sustained while alternative placements are found."
The Greenlaw Grove spokesman said its first priority was the wellbeing and care of residents.
The company added that it had "made and continue to make substantive progress against our improvement plan, and will continue to liaise with East Renfrewshire Council to find the most productive way forward for our residents".
Related Internet Links
The BBC is not responsible for the content of external sites.