Rangers chairman Dave King loses appeal against share offer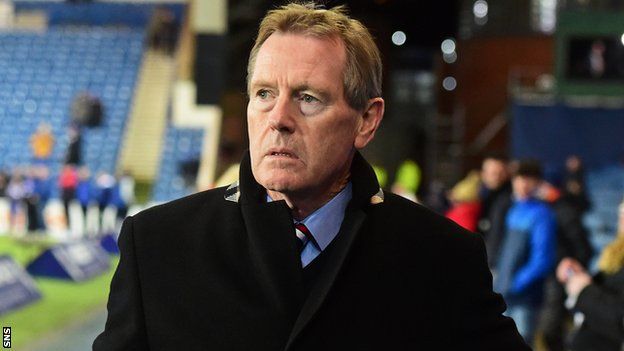 Senior judges have rejected an appeal by Rangers chairman Dave King against a court order requiring him to make an £11m offer for remaining club shares.
Last year a judge ruled Mr King needs to offer investors 20p per share for the share capital not already controlled by him and three partners.
Lawyers for the South African had argued that a judge went "too far" in ruling against him.
But Lord Carloway told the Court of Session the appeal would be refused.
During the hearing in December Lord Bannatyne ruled in favour of the Takeover Panel that Mr King acted in concert with other shareholders when he bought a controlling stake in 2015.
Mr King's counsel, Lord Davidson of Glen Clova QC, asked appeal judges to either dismiss the petition brought against his client or to send it back for an evidential hearing.
Lord Davidson said that if an offer was to be made at below the current share price it did seem to be "a pointless exercise" which served neither the interests of the shareholders nor the public.
David Johnston QC, for the panel, urged the Lord President, Lord Carloway, sitting with Lord Drummond Young and Lord Glennie to refuse the appeal.
He maintained that Lord Bannatyne had not fallen into error and there were no grounds for the appeal judges to interfere in his exercise of discretion in granting the order.
He also said a rule requiring anyone who had acquired 30% or more of shares to make an offer to other shareholders was designed mainly to ensure fair treatment.
Mr King had been found to have acted in concert with George Letham, George Taylor and Douglas Park over his acquisition of shares in Rangers and was obliged to make an offer for all the club's issued share capital not already owned by them.
Lord Bannatyne held that Mr King's argument that he does not have the funds to make the offer was "irrelevant".
The judge said: "When the respondent (Mr King) acting in concert bought shares in Rangers which took them over the 30% shareholding the respondent was aware that the purchase of such a shareholding would mean that a mandatory offer would be required."
Mr King argued that he had no control over trusts which held assets for his family but the judge said that material from the panel showed he had effective control in respect of their affairs.
The trusts had indicated they would not be willing to have their funds used for the share offer.
Lord Carloway the judges would give written reasons for turning down the appeal as soon as they could.