Juror's home bugged after bribe claim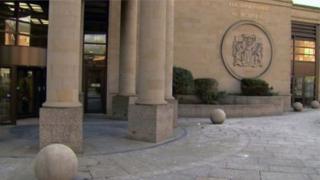 Police bugged the home of a former juror after an allegation she had taken a bribe, a court has heard.
Catherine Leahy, 62, was the spokeswoman for the jury that cleared a husband and wife accused of being involved in a £7m cocaine empire and money laundering operation.
She and her son Joseph, 22, have gone on trial at the High Court in Glasgow.
They are accused of agreeing to "receive or accept a financial or other advantage". They deny the charges.
Graham Clarke, 36, and his wife Lindsay, 32, from Larkhall in South Lanarkshire, walked free from court in April 2016 after the case against them was found not proven.
Prosecutors had claimed that the Clarkes lived the high life with no legitimate income to back it up. They said criminal money was used to pay for the setting up of the couple's successful soft play business, Rainforest in Motherwell.
Mrs Clarke was found guilty of one charge of mortgage fraud. Two others involved in the trial were cleared also cleared of drugs and money laundering charges.
The High Court in Glasgow has now heard that Mrs Leahy, who was a juror during the trial, is alleged to have agreed to accept a bribe.
Prosecutors claim that as a consequence of her and her son accepting an alleged "advantage", Mrs Leahy agreed that she would perform her task as a juror "improperly".
Giving evidence in this latest trial, Det Insp Graeme Everest, from the organised crime and counter terrorism financial investigations unit, said that five-month long trial of Mr Clarke ended on 14 April 2016.
He said the following day he received a phone call from the prosecutor fiscal about an allegation relating to a juror.
The court heard that following a meeting with the Lord Advocate and the Lord President it was agreed to allow details of all the jurors who had taken part in the Graham Clarke trial to be released and for their financial backgrounds to be investigated.
Hidden device
Det Everest added: "We needed to interview jury members and had to go to the High Court to get permission.
The police officer, who has 22 years service, said he had never heard of jurors being quizzed before and agreed that it was an "extremely unusual event".
The detective inspector said the next step in his investigation was to ask the chief constable and the Scottish government to give the go-ahead for a bug to be placed in the Leahy's Glasgow home from 19 - 30 September 2016.
Det Inspector Everest said: "We have to ensure every other line of investigation had been explored. It was a last resort."
The court was told that 31 conversations between Mrs Leahy and her son were recorded by the hidden device in their home.
Defence QC Thomas Ross asked the police officer: "One of the police's objectives was the retrial of Graham Clarke?" and he replied: "It was an outcome, the objective was to get to the truth."
Mr Ross then said: "Was the possibility of a retrial of Graham Clarke mentioned?"
Det Insp Everest answered: "Yes, but my aim was to get to the truth."
Joseph Leahy is also accused of being involved in the supply of cocaine and cannabis and possession of MDMA and cannabis.
The trial before judge Lord Turnbull continues.