Son of juror in bribe case reveals link to drugs trial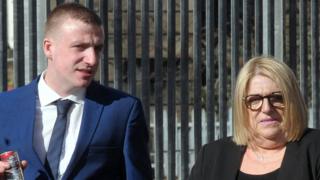 The son of a juror accused of taking a bribe was friends with a relative of one of the men in the trial.
Joseph Leahy, 22, was giving evidence at the trial of his mother Catherine Leahy who denies performing her task as a juror "improperly."
Ms Leahy, 62, was the spokeswoman of the jury that returned acquittal verdicts in a drug trafficking, fraud and money laundering case.
It is alleged she agreed to "receive or accept a financial or other advantage".
The allegations cover the period between 2 November 2015 and 2 June 2016.
In evidence at the High Court in Glasgow, Mr Leahy revealed that his friend Darren Jaconelli was the nephew of one of the accused, Graham Clarke.
Prosecutors allege, while she was serving as a juror , Ms Leahy agreed to "receive or accept a financial or other advantage".
Mr Leahy, who was originally on trial along with his mother before charges against him were dropped, told prosecutor Iain McSporran QC that he did not realise his link to the case until the trial ended.
He added: "I wasn't interested in mum's trial."
The prosecutor added: "It is a remarkable coincidence is it not?"
Mr Leahy replied: "It was a coincidence. I was as surprised as you are when I heard."
Speaking about his mother, Mr Leahy said: "She never took a bribe and she's not acted improperly in any jury as far as I'm aware."
Drug deal
The court heard that Mr Leahy was in contact with Mr Jaconelli the night before the verdict was returned.
He said this was in relation to a drug deal and nothing to do with the trial.
The jury has heard excepts of conversations between Mr Leahy and his mother at their home in Springboig, Glasgow, which was bugged by police.
At one point, Mr Leahy is heard to say: "Mum, it wasn't just you that got bribed so that now when they come to you, you're a step ahead."
When asked what he meant by that, Mr Leahy replied: "I can't explain why I said those words."
He was then asked what his mother meant when she said: "There is nothing that can link you with them"
Mr Leahy responded: "I'm guessing it must be Graham Clarke and his brother Robert when we found out they were related to Darren Jaconelli."
The trial before judge Lord Turnbull continues.