Fire service says no asbestos risk after Glasgow nightclub fire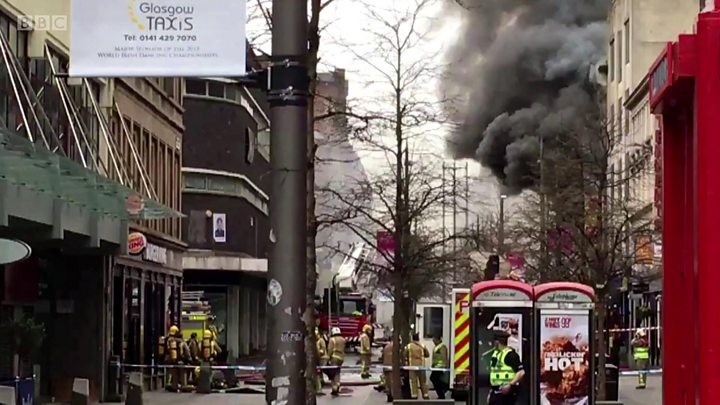 The fire service has said there is "no risk" to the public from asbestos after a blaze which engulfed a Glasgow nightclub.
Roads around Victoria's in Sauchiehall Street are still cordoned off with 30 firefighters remaining at the scene.
No-one was hurt and an investigation is under way into the cause.
A spokesman for the Scottish Fire and Rescue Service said: "Atmospheric testing has concluded that there is no risk to the public from asbestos."
The operation has now officially changed to the "damping down" phase.
It is understood that Victoria's and a building next door are so badly damaged that they may have to be demolished.
Fire crews will remain on site for a number of days and cordons will remain to keep the public away from the buildings until they can be made safe.
Chief Fire Officer Alasdair Hay earlier said: "We will remain on the scene for as long as it takes and we are absolutely committed to preventing any further damage to surrounding properties and ensuring the area is made safe.
"This was an incredibly difficult and complex incident - but the actions of our firefighters were and continue to be outstanding.
"This is a historic area of Glasgow - through our aggressive intervention and planning we were able to protect iconic buildings, such as the Pavilion Theatre, from significant damage."
It is thought the nearby Pavilion could remain shut for several weeks due to smoke damage.
A statement posted on the theatre's Facebook page on Friday morning said three shows over the weekend - featuring Ed Byrne, A Vision Of Elvis, and Suggs - had been cancelled with the hope that they can be rescheduled "in the not too distant future".
It added: "We have not taken this decision lightly but feel it is better to be as upfront and as realistic with everyone as we can allowing time to make other arrangements.
"The amount of smoke that has entered the building and is currently still very visible inside...we think could possibly take weeks to clear and feel that it would be very uncomfortable and worrying if customers were watching a show with this sort of smell lingering throughout the theatre.
"Currently, with as much smoke still inside, the fire alarm cannot be reset and detectors and the system will all require to be checked before rearming.
"Inside the theatre, there is a considerable amount of ash and black dust and due to the warnings given by fire and rescue about asbestos in the air, we cannot allow staff or customers back in prior to the air/dust being tested by a specialist and confirmed to be safe and if necessary, cleaned and disposed of properly."
The fire was one of the biggest faced by Scotland's fire service since it was amalgamated nearly five years ago.
At its height, more than 120 firefighters dealt with the blaze on the busy shopping thoroughfare.
It took hold in the roof of the building at about 08:20 on Thursday.
Thick smoke billowed across the city for much of the day with fears the fire could spread to nearby buildings including the historic Pavilion Theatre.
Roads around the scene remain closed as firefighters continue their operation.
Ch Insp Audrey Hand, of Police Scotland, said cordons would remain in place and urged the public to have patience and work with officers.
Hope Street is closed to all traffic between Bath Street and Renfrew Street. And Renfield Street is also closed between Renfrew Street and Bath Street.
Lauders Bar, which is located on the corner of Sauchiehall Street and Renfield Street remains closed.
The pub's Facebook page posted: "Due to fire in Victoria's in Sauchiehall Street, we have been evacuated from Lauders. Therefore we will remain closed until informed it is safe for us to re-open".
Nicola Sturgeon chaired a meeting of the Scottish government resilience group on Wednesday to discuss the incident.
She tweeted: "This remains a serious ongoing incident and my sincere thanks go to the Scottish Fire and Rescue service and other emergency services for their heroic work."
The fire was described as "an inferno" by the crews fighting it.