Dunlop community group to buy village's only pub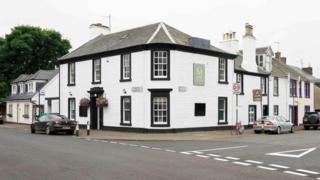 A community group in Dunlop has been granted £160,000 from the Scottish Land Fund to buy the village's only pub.
The Dunlop Community Hub propose to purchase the Merito bar with the upper floor being developed as a space for community activities and events.
Potential plans for the hub include an open space for home-workers, a study space and a training kitchen.
The project will operate as a social enterprise, with all profits being used for the facility and community.
The current staff from the pub are to be retained.
The community group had said the idea to apply for funding came when the pub was put up for sale and fears grew that the listed building would be redeveloped as flats.
The pub was used as a meeting place for groups such as the PTA, darts and other groups with the village, who require appropriate meeting spaces.
By redeveloping the upstairs of the building, a quieter and flexible meeting space will be established for the village community.
'Enormous enthusiasm'
Kevin Brown, the director of the Dunlop Community Hub, said that keeping the pub open was essential as it was somewhere for people to go, rather than staying in houses to meet.
He said: "The pub had been somewhat run down until the current lady bought along with her family.
"It has been great for the community, it does great food and a lot of the elderly in the village would meet up for coffee throughout the week.
"Keeping the pub open allows us to keep that community spirit and put something into the wider community."
The plans to apply for funding were met with "enormous enthusiasm" according to the group, with about 130 people attending the open meeting to discuss the application.
As Dunlop is a rural community many people work from home and the meeting discussed the potential of an open space being kept aside for workers who do not want to be in their homes all day.
'Real buzz'
Similarly, the space was discussed as being used for somewhere to keep young people off the streets and a meeting place for study due to their not being a library in the village.
The handover is expected to take six weeks with a detailed community process to take place soon.
Mr Brown said: "We have a lot of ideas right now to look into, some more practical than others, but our aim is to create a flexible multi-use space.
"There is a real buzz in the community about the funding and it is fantastic that we have done it."