Lifting barge at scene of fishing tragedy in Loch Fyne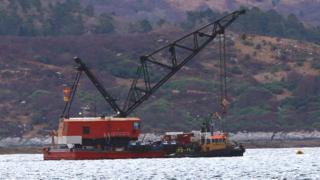 A special lifting barge has been brought in to try to recover the bodies of two fishermen who were lost when their boat sank in Loch Fyne.
A salvage team hopes to lift the Nancy Glen sufficiently for divers to carry out a search.
The boat, which capsized and sank in January, still lies about 450ft (137m) below the surface.
The bodies of Duncan MacDougall, 46, and Przemek Krawczyk, 38, are believed to be trapped in the wreck.
A third crewman, John Millar from Tarbert, survived the capsizing after being rescued by a passing vessel.
Salvage experts have been clearing debris from around the boat, in preparation for the recovery operation.
The Scottish government, which contracted the barge to try and lift the wreck, said there was no guarantee that the operation would be successful.
A spokesman said: "We are confident that all of the debris has now been cleared around the site of Nancy Glen and a formal underwater visual survey will confirm this.
"Further preparatory work will now be undertaken before any lifting can begin at the site.
"This continues to be a complex task with a number of technical challenges, meaning there is no guarantee of success.
"We are in close contact with the families and are keeping them updated as the recovery progresses."