Bus driver praised for stopping to help disabled woman across busy A77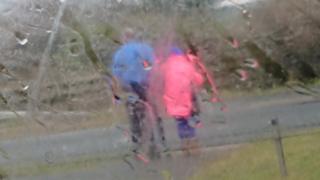 A Stagecoach bus driver has gone the extra mile by stopping to help a disabled woman across a busy road in miserable weather.
The driver on the Ayr to Kilmarnock service came to the aid of the woman on his bus after she appeared to have missed her stop.
Passenger Chris Hendry captured the touching moment of goodwill around lunchtime on Tuesday, just past Hansel.
Bus operators Stagecoach said they were very proud of their driver's actions.
Mr Hendry, who was also travelling on the bus, said the driver got off, linked arms with the woman and helped her back on track.
He said: "He stopped at the next available bus stop and helped her cross the extremely busy A77 and made sure she got the X16 heading back to Hansel.
"Without the driver's help this would have been a very difficult and dangerous situation for the woman, so a very big well done.
"I hope the driver gets the recognition he deserves for the good deed."
A spokeswoman for Stagecoach said: "He is a credit to Stagecoach and his decision to help the passenger cross the busy road reinforces what an important role our drivers play within local communities."