Home Secretary invited to Glasgow to view 'fix room' plans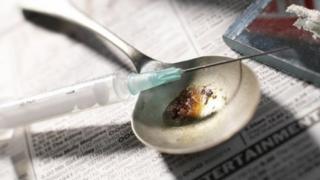 The Home Secretary is to be invited to visit Glasgow to learn more about proposals for the UK's first "fix rooms" for drug addicts.
Councillors claim the innovation will combat the increase in street injecting and HIV infections among users.
Scottish ministers have previously described the proposals as "ambitious and innovative".
But the Lord Advocate said such a facility would need the UK Government to amend the Misuse of Drugs Act.
Rise in HIV
Glasgow, which has an estimated 13,600 problem drug users, has seen a growing number of addicts diagnosed with HIV.
And health officials put the cost to NHS Greater Glasgow and Clyde at more than £29m.
The city's Health and Social Care Partnership developed and agreed proposals for the facility.
It is designed to cut public injecting, reduce harm for users and communities, and prevent increases in drug-related infections.
Cross party support
The motion was proposed by city convener for health and social care integration, councillor Mhairi Hunter and seconded by her fellow board member, councillor Archie Graham.
Ms Hunter welcomed support for the motion from across the political spectrum.
She said: "This is not a political issue - it is a public health issue.
"These proposals have been developed by clinical and social work professionals, who are confident they are the most effective response to a public health crisis that is ongoing in our city."
Last summer it emerged the scheme would cost £2.3m a year.
In November Lord Advocate James Wolffe QC refused to back the scheme as it would allow possession of street-bought heroin within the facility.