Drugs accused 'handed over heroin holdall' in Greece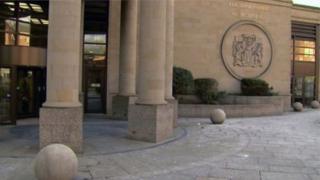 A HGV driver picked out drugs accused Russell Stirton as the man who handed him two holdalls full of heroin in a Greek service station.
Peter Cameron, 37, was shown a sheet of photographs by police in August 2015 and asked if he could see the man.
The High Court in Glasgow heard he picked out Mr Stirton 57, of Milngavie, East Dunbartonshire.
He denies being concerned in the supply of heroin in the UK, Italy, Belgium and Greece.
The charges span the period between 23 September and 26 November, 2012.
Hidden among breadsticks
Mr Cameron previously told the court how he and another HGV driver, Samuel Wilson, were handed two holdalls full of heroin by a man in a Mini at a Greek service station on November 22, 2012.
The witness, a former soldier, claimed that Mr Wilson hid the Class A drug among the breadsticks and they then took a ferry to Bari in Italy where they were arrested by police.
Both men were jailed for six years by the Italian authorities.
In his evidence which was given via a video link, he said that he was asked by police to have a look at a sheet of paper with a number of images on it and see if he could identify the man who threw the heroin to him.
'I remember faces'
Mr Cameron claimed he was 99.9% certain he had picked out the man he met at the service station in Greece.
Defence QC Brian McConnachie said to Mr Cameron that he had only seen the man who handed him the drugs for a very short period of time and asked: "Is there any possibility you could be mistake?"
The witness replied: "A 0.01% chance. I remember faces."
The jury has heard that Stirton flew into Athens, Greece from Brussels on 20 November and flew back out from Athens to Brussels on 26 November, 2012.
The trial, before Lady Rae, continues.