'Murder victim' had black eye months before she died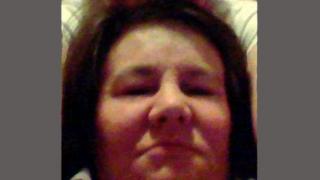 The father of a disabled woman allegedly murdered by her sister and daughter said he saw her with a black eye several months before her death.
Derek Greenop was giving evidence in the trial of Lynette Greenop and Shayla Greenop at the High Court in Glasgow.
The women deny killing Sharon Greenop, 46, at the home they shared in Troon, South Ayrshire, in 2016.
Mr Greenop said Sharon had suffered a spinal injury in an accident in 2009 and could barely walk as a result.
He told the jury he visited Sharon, who was being cared for by Lynette Greenop, some time towards the end of summer 2016.
Mr Greenop said he saw Sharon in her bedroom and noticed she had a black eye.
He also said there was a commode in the bedroom which was "stinking".
Mr Greenop asked Sharon how she got her black eye and told the court: "She said Lynette did it."
He went on to say Sharon later apologised to Lynette Greenop, adding that she had told a lie about how she got her injury.
Mr Greenop also told the court Sharon was frightened of Lynette Greenop.
'Very unclean'
Sharon's other sister Diane Hogg, 43, also gave evidence and spoke of her concerns about the "dirty" house.
She told the jury: "It was just the overall state. It was very unclean."
She added: "There was a lack of food in the house. The washing machine had been broken for six months - could have been fixed no problem.
"Decoration was just being ignored."
Ms Hogg said she was told Sharon could not afford to repair the washing machine and that she was "only eating supernoodles".
The witness - who works as a carer - said she stopped visiting Sharon's home in 2013.
She became upset at one point while giving evidence when there was mention of her sister's body being found in November 2016.
Lynette Greenop and 20-year-old Shayla Greenop, who is Sharon's daughter, are accused of assaulting and murdering Sharon between September and November 2016 and claiming her state benefits after her death.
They deny all the charges against them
The trial continues.