Castle visitors warned of 'angry badger' in cellar tunnel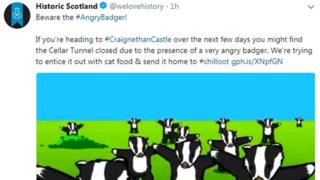 Part of a historic castle has been closed to the public after a badger moved in.
Staff at Craignethan Castle, near Lesmahagow, tweeted that a "very angry badger" was in the cellar tunnel of the property.
Historic Environment Scotland (HES), which manages the site, said staff were in touch with local wildlife welfare authorities.
It is hoped the badger can be coaxed out of the tunnel with food.
The tunnel was closed on Thursday.
A spokesman for HES said the rest of the castle, a residential tower protected by an artillery fortification, remained open to the public.
He said: "The castle is surrounded by woodland and we believe the badger may have become lost.
"Staff first spotted some dug out earth on Wednesday evening, and later spotted the badger on closer inspection.
"It appears as though the badger has entered the tunnel and caused some mess: digging up through loose soil into stonework.
"Our work team on-site have since cleared some of the rubble and have tried to lure the badger out with cat food and honey."