Colourful past of Scotland's Roman wall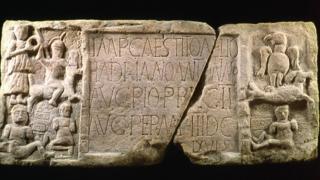 Parts of the Roman Empire's most north western frontier were likely to have been painted in bright colours, new research has found.
The Antonine Wall was built across central Scotland from Old Kilpatrick in the west to Bridgeness in the east.
Now an expert at Glasgow University has used cutting edge technology to examine the remnants of the structure.
And archaeologist Louisa Campbell has found that "distance stones" were painted vibrant red and yellow.
She said the coloured stones were used by the Romans to demonstrate their power over local people.
"The public are accustomed to seeing these sculptures in bland greys, creams, white (for marble) and don't get the full impact that they would have had on the Roman and indigenous audiences 2,.000 years ago," she added.
"These sculptures are propaganda tools used by Rome to demonstrate their power over these and other indigenous groups, it helps the empire control their frontiers and it has different meanings to different audiences."
The wall was built in around 142AD but it was abandoned within 20 years. It is now a UNESCO world heritage site.
Dr Campbell, a postdoctoral fellow in archaeology, used X-ray and laser technology to study the pigments applied to Roman sculpture, with a particular focus on distance stones from the Antonine Wall.
Her project - Paints and Pigments in the Past - is part-funded by Historic Environment Scotland's (HES) archaeology programme.
The aim of the project is to identify the colours of paint pigments applied to the sculptures from the wall and then to recreate an authentic palette of colours to allow them to be physical and digitally reconstructed.
Dr Campbell said: "The distance stones tell us how many feet were built by each legion and are dedicating their allegiance to the Emperor Antoninus Pius.
"These sculptures are unique to the Antonine Wall and the best-preserved example of frontier statuary from any Roman border.
"They were embedded into prominent positions on the wall (probably crossing points at militarised forts) for full visual impact.
"The colours would have been a very powerful addition to bring these scenes to life and aid in the subjugation of the northern peoples."
She said of the samples she studied: "Many contain exquisitely carved scenes of combat, religious practice and architecture.
"It is likely that the sculptures were originally painted for maximum impact. However, over the course of time the paint has faded and only trace elements are left."
The archaeologist studied samples at the university's Hunterian Museum, the National Museum of Scotland, the Yorkshire Museum and the Great North Museum.
Patricia Weeks, Antonine Wall co-ordinator at HES, said: "Knowing how colour was used by the Romans to tell stories and create impact is a huge leap forward in understanding these sculptures."