John Swinney announces third Gaelic school for Glasgow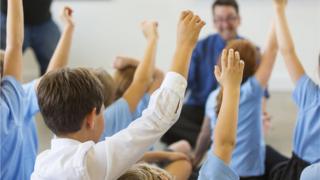 A new Gaelic school is to open in Glasgow, after a £1.9m Scottish government investment.
The new development will be the third Gaelic school in the city, with the existing schools at capacity.
Nearly 900 pupils are enrolled in the schools at Glendale and Berkeley Street. The new facility will redevelop the old Cartvale School in Govan.
Deputy first minister John Swinney said the new school "will provide capacity to meet growing demand from parents."
It is expected to open in 2019.
Mr Swinney said: "We have an opportunity to build on the success of recent years and to ensure a faster rate of progress in the expansion of Gaelic education across Scotland.
"Glasgow City Council has a remarkable record with Gaelic education and the establishment of a third standalone school will provide capacity to meet growing demand from parents.
"Following the opening of Portree Gaelic School last week - the sixth in Scotland - we will continue to support and encourage the growth of Gaelic education."
City education convener said: "The expansion of Gaelic Medium Education across Glasgow is very exciting and more families than ever before are able to access Gaelic for their children and at all stages through nursery to secondary school.
"The development of the former Cartvale School is yet another example of our continued commitment to GME and we welcome the additional grant which will go towards the upgrades and renovations for the opening of the new school building in August 2019."