Seven-month hunt for the island dog that won't come home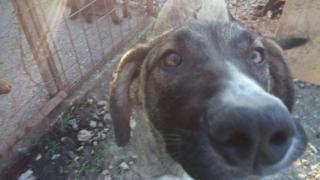 A lost dog on the Scottish island of Arran has become a local celebrity after evading capture for seven months.
Drogo the Bosnian rescue dog bolted during a walk to familiarise him with his new home in September.
Seven months on, prime cuts of meat, cameras used for tracking wildlife and the lure of a lovely lady dog have all failed to bring the scared animal home.
Owner Emma Campbell has refused to give up as she tracks sightings across the island and calls in the professionals.
Emma, 43, a paramedic and dog lover from Lamlash, adopted the German shepherd cross after seeing a heartbreaking social media post about the plight of dogs in Sarajevo.
She told BBC Radio Scotland's Kaye Adams programme: "We had only had him for four weeks and I was taking him on a couple of familiarisation walks.
"He was a very scared, very timid dog.
"We took him on some walks so he got used to the scent so that if he did get a fright and run off he could try to find his way home.
"So we stopped in Brodick and the plan was I was going to walk home with him.
"But when I opened the boot he just panicked and bolted out of the boot and that was it - we couldn't get hold of him after that and he was just running scared."
In the months that followed, Emma, husband Alan and children Shaila and Gordon tried everything to bring Drogo home.
The quest to tempt Drogo back has become a massive operation.
The dog is a local celebrity alongside the island's legend of a wild puma, as locals report sightings and track his progress as he roams.
Emma explained: "We have cameras, we have food stations, we cut up a T-shirt worn and scented by one of the shelter workers Drogo would know.
"We put out scent items from female dogs in heat. We tried freshly barbecued sausages."
The Campbells even adopted Drogo's sister Goldie as a living reason for the dog to return.
But although Drogo has been spotted on camera just one or two steps from entering a trap, and even came within 20m (66ft) of Emma in the same field before running away again, he is still at large.
The Campbells have been helped by expert dog finders Lost and Hound Canine Capture Team who have visited the area and plan to return next weekend with a larger cage trap and more ideas.
Andy Tippins, from the group, explained: "Drogo has been a little more difficult than other dogs.
"But they are resilient. We have seen dogs survive six years on the streets in Manchester.
"We try to establish a food station in order that he uses it quite often. Then replace that with a trap.
"We are confident we can capture him with our 30 years experience.
"We will be back in Arran on Friday with a bigger trap."
The biggest concern now is lambing season.
Emma said: "The farmer has been fantastic, but we can't guarantee that with a hungry dog looking to survive nothing would happen.
"We would rather catch him sooner than later. A dog could cause a lot of damage."
Why won't Drogo come to his family?
Any Tippens from Lost and Hound explained:
"Drogo is not familiar with his surroundings. He has had a lack of socialisation with humans. This can happen anywhere, at puppy farms or when they are kept in shelters with other dogs.
"It takes a while for them to adapt to a family and that can be why they run off.
"When a dog goes into survival mode, it reverts to its primal instincts, going back to the wildness of looking for food, shelter and water.
"Once the dog finds a food source, and water, it will stay in the one area. Eventually we can replace a food source with a trap to recapture the dog."