Scots Sikh Jagtar Singh Johal could face murder charge in India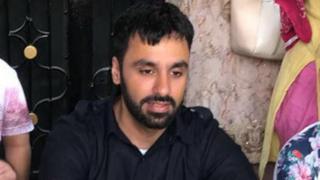 A Scottish Sikh man being held in India could face charges of murder and criminal conspiracy.
Jagtar Singh Johal, from Dumbarton, was arrested in Punjab last November.
Campaigners say he has been tortured while being held by the Indian authorities.
The 31-year-old is one of 10 men accused of being involved in the murder of Hindu nationalist leader Ravinder Gosain. He was shot dead in October last year.
'Sufficient evidence'
Mr Johal and the other accused were brought to court in Mohali amid tight security.
The prosecution counsel said that the charge sheet against them ran to nearly 1,500 pages.
The national investigating agency (NIA), which was established by the Indian government to combat terror in India, has named 172 witnesses in the case.
The counsel told the court: "We have sufficient evidence against Johal."
Arvind Chhabra, from the BBC's Punjabi service, said legal arguments will be held on 22 May after which the court may or may not frame charges against the accused.
Campaigners for Mr Johal said the allegations had been "invalidated" by the torture they claim he has suffered.
The Free Jaggi Now group said: "The announcement of a charge sheet in relation to only one of several pending cases, after months of detention and 28 pre-trial hearings, represents how damaged the Indian legal system is in reality.
"These shambolic proceedings are invalidated by the fact that Jagtar Singh Johal has allegedly suffered torture, and despite diplomatic concerns raised by Britain no investigation of the torture has taken place.
"The NIA courts denied an independent medical examination during police remand, when Jagtar Singh was most vulnerable. To date, Indian authorities have not granted permission for British consular staff to meet Jagtar Singh in private."
'Peaceful activist'
Meanwhile campaigners, including members of the Sikh Federation and Sikhs from across Europe protested outside the UN in Geneva.
Mr Johal's brother Gurpreet Singh was due to be at the protest.
They want the United Nations to investigate their allegations and say they are relying on the organisation to uphold Mr Johal's rights.
The Indians authorities have maintained that due process is being followed and the Punjabi police have denied allegations of torture.
Theresa May discussed the case with the Indian prime minister when he visited London last month.
Mr Johal was arrested in Punjab on 4 November, just over a fortnight after his wedding.
His family have said he was a peaceful activist who had contributed to a website remembering the 1984 massacre at the Golden Temple at Amritsar but was not a militant.