Fresh allegation against Scots Sikh held in India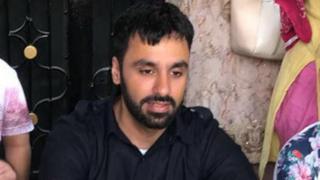 Further details have emerged in the case of a Scottish Sikh who has been held in India without charge for six months.
Jagtar Singh Johal, 31, from Dumbarton, was arrested in Punjab last November, two weeks after his wedding.
He is one of 10 men accused of being involved in the murder of Hindu Nationalist leader Ravinder Gosain.
India's anti-terrorism unit now alleges that Mr Johal delivered cash to the ex-head of the Khalistan Liberation Force.
International conspiracy
The charge sheet by the National Investigation Agency (NIA) covers the killing of the Nationalist Hindu leader last October and describes the separatist group, the Khalistan Liberation Force, as a "terrorist gang".
It alleges that his murder was part of a wider international conspiracy by the Khalistan Liberation Force (KLF) - which included five other killings and an attempted killing.
Details run to more than 50 pages but only a small part covers Mr Johal's alleged involvement.
It claims that in summer 2013 he went to Paris and delivered £3,000 to the former head of the KLF, Harminder Singh, who died in jail last month.
The charge sheet alleges that part of this money was used by the former KLF leader to motivate and recruit another Sikh man to the group and take part in the conspiracy.
Mr Johal's family and campaigners have said he is innocent and has been tortured while being held by the Indian authorities.
They said he was a peaceful activist who had contributed to a website remembering the 1984 massacre at the Golden Temple at Amritsar, but was not a militant.
Coded language
Another man, Gursharan Singh, from Coventry, also known by aliases including Gusharanbir Singh as well as Wahiwal and Pehalwan is one of 15 men named in the charge sheet.
He is also accused of being a member of the KLF and of providing training to others accused of involvement in Ravinder Gosain's killing.
The charge sheet alleges that the training included advice on how to avoid detection online and how to use coded language while using messenger applications.
A court will hear legal arguments next week before making a decision on whether anyone will be charged.