Motherwell goes 'crazy' for Up The Well cup final song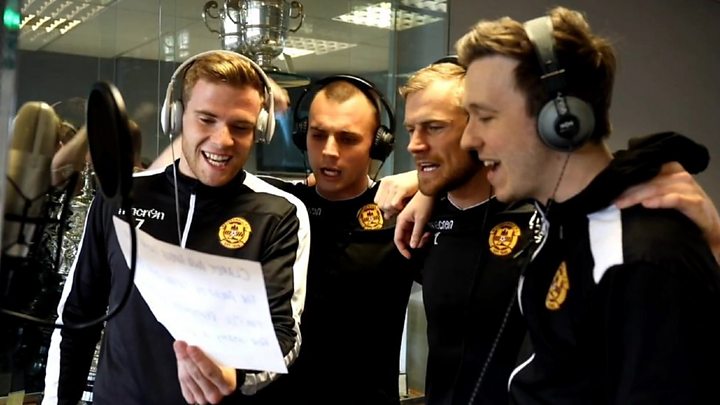 Motherwell players and fans have joined forces to record a song ahead of this Saturday's Scottish Cup Final.
Up The Well has been storming the UK itunes chart - at one point sitting at number 16 ahead of Rita Ora and Justin Timberlake.
The song is a popular Fir Park anthem which has been reversioned by local band The Banter Thiefs.
Players including Chris Cadden, Liam Grimshaw, Richard Tait and Cedric Kipre all lent their voices to the track.
Motherwell face Celtic at Hampden in the final on Saturday.
The Lanarkshire-side last lifted the Scottish Cup in 1991.
Up The Well was originally released in 1969. Plans for the latest version began after Motherwell band The Banter Thiefs were asked to play some Motherwell songs at a gig ahead of a game earlier this season.
"We played this track and it went down a treat so we promised to record it if we got to the final," said band member Derek Watson.
He said they wanted to give something back to a football club that had been a "huge part of our lives", and when the players agreed to get involved "that was the icing on the cake".
The song was released earlier this week and raced up the download charts - hitting number 16 in the UK itunes chart and claiming top spot in the alternative chart.
You may also like to read:
"It's been totally crazy, but in a good way," added Derek.
"Somehow we've been in every national newspaper in Scotland, we've been beamed across the world on global television, reached chart positions we never thought was possible, had our video viewed on various sources by over 200,000 people, appeared on various radio stations and most importantly, had a lot of fun in doing so."
But were the band impressed by the players' singing talents?
"I'd say there's no doubt they are better football players than vocalists, " joked Derek, "but they did a great job."
He added: "It's been wonderful to see them sharing the song on their social media pages over the last few days, listening to it in their cars etc.
"Let's hope they've got it cranked up on the bus to Hampden tomorrow."
An earlier version of Up The Well was, up until now, played at Fir Park ahead of home games.
It was recorded in the 1990s by a group of local musicians known as An Ugly Customer, after a plea from fanzine editor, Matt Johnstone, who wanted Motherwell fans to know they had their own song.
Iain Smith, who sang lead vocals on the track back then, said: "Matt said in a fanzine article that he had always entertained the notion of someone re-recording the original from 1969.
"I contacted him saying I could do it, we met for a pint or two in the pub and took it from there.
"Initially the club was not particularly interested...but eventually the song started getting played at games - and for the record the first time it was played Motherwell beat Celtic 1-0 at Fir Park."