'No brake defects' on Rangers crash bus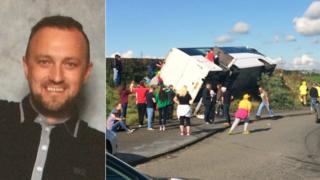 An MOT expert has told the trial of a driver accused of killing a Rangers fan in a bus crash that there were no defects in the vehicle's brakes.
Robert Handley, 62, was giving evidence at the trial of Callum Phillips, who denies killing 39-year-old Ryan Baird by dangerous driving.
Mr Baird was one of 37 fans travelling on the bus to a match in Glasgow.
Mr Phillips, 49, from Dalbeattie, is accused of causing the crash in 2016 at Crossroads Roundabout, near Kilmarnock.
He was driving the Nith Valley Rangers supporters bus, which was heading to the home match against Partick Thistle when it crashed.
Mr Handley, an enforcement officer with the Driver and Vehicle Standards Agency, told the court that he had compiled a report that found no faults with the bus' brakes.
'Passed the test'
The jury was told that the bus had three braking systems - a footbrake, secondary braking and a handbrake.
The court also heard that the bus manufacturer, Iveco, had said that if the vehicle's brakes failed, the handbrake could be used to bring it to a halt.
Prosecutor Richard Goddard asked Mr Handley: "Would this bus have passed an MOT test?"
Mr Handley said that it would have and that "all of the brakes passed the test".
Defence counsel Simon Gilbride asked Mr Handley: "Why did you use the unladen weight of the bus in your tests and not include the weight of the 37 people on the bus that day, for a more accurate calculation?"
Mr Handley replied: "I didn't know how many people were on the bus."
'Walking wounded'
However, Mr Handley said that even with the weight of the passengers taken into account, the bus' brakes would have passed the MOT.
Ramsay Bissett, a local police constable, had earlier described to the court what he found when he arrived at the scene of the crash.
He said he found a white bus lying on its side on an embankment.
The trial has already heard that Ryan Baird was fatally injured after becoming trapped in the wreckage after the bus collided with a lamp post and rolled over onto its side.
PC Bissett said: "There were a lot of walking wounded and a lot of people were helping."
The jury was also told that a number of people went to the aid of the injured passengers, including a wedding party and a first aid crew who had been heading to a match at Kilmarnock Football Club.
PC Bissett said that he went over and spoke to Callum Phillips, the bus driver told him: "The brakes failed."
The trial before judge Lady Stacey continues.