Green light for Kelvingrove gigs despite noise concerns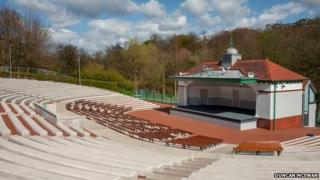 Kelvingrove Bandstand will remain as a music venue despite strong objections from residents about noise levels.
The Glasgow City Council decision came after fears the popular venue would close for good.
Glasgow Life were awarded a public entertainment licence for three years, despite a proposal to restrict it to just one year.
It means this summer's programme of events, including Summer Nights, Fiesta Fold and Pride, will go ahead.
Artists scheduled to headline gigs in the coming months include Van Morrison, Alfie Boe and The Fratellis.
'Disappointing'
Yorkhill and Kelvingrove community councillor Gavin Carre, said: "It's disappointing for the community.
"There will be 12 continuous nights in August meaning it will be 12 nights of continuous noise for residents.
"We think the noise is far too high.
"We now have people saying they don't want to live in the area because of the bandstand operation during the summer.
"We have to respect the decision granted and feel that with the work ongoing with Glasgow Life and their acoustic consultant, the matter will be relieved, if not resolved."
West End residents claimed that music acts had been heard shouting "obscenities" during concerts and complained of revellers singing Sister Sledge songs while leaving the venue.
Findlay Menzies, who lives close to the park, added: "These events are taking place on school nights and have been very disruptive to my own family.
"We can't get the kids to sleep until 11.30pm.
"When these events are on the area is uninhabitable.
"My life is not worth living."
But solicitor Robin Morton, acting on behalf of Glasgow Life, said: "I'm trying to help the organisers keep open a venue in the face of heartfelt concern.
"If this renewal is not granted the venue will not be able to continue in its present form.
"That will not be good for Glasgow as a UNESCO city of music."
24-hour hotline
Mr Morton handed over a dossier containing promises about how noise disturbances would be tackled.
He revealed that sound expert Lindsay McIntyre, from KSG Acoustics, has been drafted in to help cancel out huge bass noise.
Mr Morton said that a new 24-hour hotline would be in force, with sound engineers on site to deal with complaints and make adjustments to noise levels instantly.
There will also be two "off-days" within every seven-day run of concerts, including this year's Summer Nights festival.
A variety of free community events will take place in July to offer a "balanced programme".
Mr Morton said: "On 342 days of the year the Kelvingrove Bandstand is not used for music shows."
Licensing committee member Graham Campbell was sceptical of some residents' claims.
He added: "It's only for a short period of time that they are being asked to be inconvenienced for the privilege of living there."
Councillors were tied 4-4 on whether to grant the licence for three years or just one.
Licensing committee chairman Alex Wilson made the casting vote in favour of three years.