Anti-social 'Ned Shed' taken down by Glasgow City Council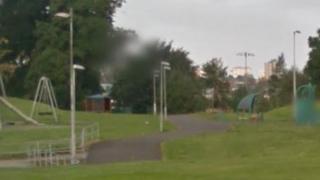 A local hut that became a hub for anti-social behaviour has been taken down by Glasgow City Council.
The "Ned Shed" in Drumchapel attracted groups of up to 40 youths from as far afield as Coatbridge.
Local residents claimed it led to wheelie bins being stolen and set alight and their windows smashed.
The council said it had stepped in and demolished the structure after the youths ignored repeated warnings about their behaviour.
The metal structure in Southdeens Play Are was originally built for residents to sit and relax in, but had fallen into disrepair.
'Absolutely delighted'
A special meeting took place last month between the council, police, residents and community groups, writes Local Democracy Reporter Alan Ferguson.
They agreed to give G15 Youth Group a week to appeal to the youths, which reportedly went unheeded.
Councillor Paul Carey said: "I am absolutely delighted this hut has been demolished - it has been the source of hell for neighbours."
He said it had been destroyed by graffiti and vandalism and then used for drinking and drug-taking sessions.
Mr Carey said families had to endure the mess and trouble created in the popular park.
Residents of Southdeen Avenue presented a petition to Glasgow City Council demanding the demolition of the hut.
'Long time coming'
It was discussed at the meeting in Glasgow City Chambers last month with all representatives present.
Mr Carey added: "It's been a long time coming for residents, to get rid of what's known locally as the 'Ned Shed'.
"Time was given to try and sort out the problems going on there, but this has obviously not worked out.
"The police, petitioning residents, Drumchapel Housing Co-operative and I all wanted to get rid of it as soon as possible.
"Hopefully, this will address the issues facing residents in the area, but I am all too aware this is not a silver bullet to the wider problem."