Is Glasgow's TV industry thriving?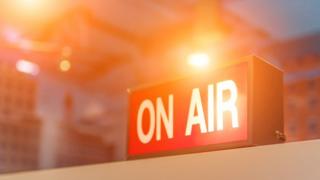 As Glasgow makes the shortlist for Channel 4's new headquarters, we take a look at the state of the TV sector in Glasgow - and across Scotland.
It is one of seven UK cities that now is being considered for the broadcaster's national HQ.
Channel 4 wants to move 300 jobs out of London to three regional hubs, the largest of which would be its headquarters.
If Glasgow is successful, it would be a huge boost to the industry north of the border.
Led by Stuart Cosgrove, the bid has already won the backing of Nicola Sturgeon, who told key industry figures last month that the city's film and TV sector was thriving.
"This city is already one of the most important centres for broadcasting and TV production anywhere on these islands," the first minister added.
How important is TV production in Glasgow?
One of the most photographed landmarks of modern Glasgow is dominated by Scotland's largest TV production companies.
At Pacific Quay, both STV and BBC Scotland are based in shiny new buildings overlooking the River Clyde.
Since the mid-2000s, they have been the base of hundreds of journalists, producers, directors and executives.
They are responsible for creating a diverse range of programmes from documentaries and quiz shows to children's drama and sitcoms.
However, these big beasts are not the only players in Glasgow's TV production industry.
At the last count, there were 124 TV production companies based in Glasgow - making up well over half of the industry north of the border.
And the city was responsible for just over 80% of Scotland's TV turnover and 76% of direct employment, according to a report for Creative Scotland.
Indeed, the report found that 701 people were directly employed by TV production companies in Glasgow.
Up to 1,525 full time equivalents are also employed as freelancers - a vital part of the market in this sector.
The sector across Scotland as a whole is growing - the amount of money spent on TV and film production tripled over the 10 years to 2016.
Figures released last year show a record £69.4m was spent on making shows for both the big and small screens in Scotland in 2016 - up from £23m in 2007.
Creative Scotland has said big budget productions like T2 Trainspotting and Outlander were partly responsible for the increase.
What does the future hold for the sector?
For employees at STV, the future is uncertain.
Earlier this month, its new chief executive, Simon Pitts, announced plans to cut 59 jobs and shut the STV2 channel.
Staff were said to be "extremely angry" at the move, which will see investment shifted to the main channel and online streaming.
Mr Pitts said the decision was made "as a result of the challenging economics of local television and anticipated increased competition from BBC Scotland".
In fact, his announcement came the day after BBC Scotland announced its new channel would go live in February next year.
The channel will have a budget of just over £32m and will showcase programmes that reflect Scottish life, including new comedy and drama.
A news programme at 21:00 on week days will present international, UK and home news from a Scottish perspective.
Production companies are already benefitting from the move as the channel needs to have content ready for its launch date.
The corporation has also announced a separate increase in Scottish commissioning by £20m a year.
A report for Creative Scotland by consultancy Olsberg SPI is optimistic about the impact of the investment.
It said: "Given the impact which stable spending by national broadcasters has had in other markets - notably Wales, where S4C and the BBC's prior spending built the skills base now being used by larger productions - this offers a significant opportunity for the Scottish production market."
Could the next 'must-see' TV drama be filmed in Scotland?
The production of high-end TV dramas like Peaky Blinders and Game of Thrones could be a huge opportunity for the screen industry in Scotland.
It is already home to the hugely successful Outlander - a programme that has been credited with bringing about £300m of investment to Scotland and with boosting tourism.
Earlier this year the producer of that programme told MSPs that Scotland should try to attract more shows of a similar calibre.
"If you have two or three Outlanders here, the amount of inward investment is staggering," David Brown said.
The lack of a purpose-built film and TV studio has long been blamed for holding back the expansion of the industry.
But in December the Scottish government gave its backing to plans to build Pentland Studios in Midlothian.
Built on around 100 acres of land, it will have six sound stages and is expected to create up to 1,600 jobs.
Experts say the scale of the opportunity is difficult to estimate but consultants Olsberg-SPI predicted that the studio will attract one high-end TV drama, at £30-35m per series.
They say it is also likely to attract filmmakers and larger UK productions.
A skills shortage in the industry is another potential barrier to attracting the big-spending TV producers north of the border.
The freelance nature of the business means it is difficult for people to develop the skills they need to advance in the sector.
However, in January the National Film and Television School set up a new base at BBC Scotland's Pacific Quay base where it is expected to plug that gap.
The NFTS offers postgraduate courses for the film, television and games industry, as well as continual professional development courses.
With Scottish government backing of £475,000, about 1,500 students are expected to take courses at the base during the first five years.