Housing policy to tackle domestic abuse in West Dunbartonshire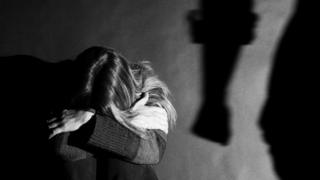 West Dunbartonshire Council has launched a new zero tolerance policy on domestic abuse within social housing.
The council has become the first in Scotland to use the approach and will now remove the perpetrator from the family home, not the victim.
The area has the highest incidences of domestic abuse per head of the population in Scotland.
Measures will ensure victims have immediate access to practical help and legal assistance.
The authority will also use the full scope of anti-social behaviour powers in conjunction with housing legislation, ensuring victims can stay at home while the perpetrator is legally removed.
The No Home for Domestic Abuse campaign will introduce an assumption that all tenancies for couples are in a joint name.
If an incident of domestic abuse occurs, the victim will legally be entitled to remain in the home.
'Detrimental impact'
The council will only offer short-term tenancies to people found guilty of domestic abuse and ensure the property is a distance from the victim.
Housing staff will work with with police, courts and criminal justice teams to co-ordinate action against serious offenders.
Work will also take place with partners, including West Dunbartonshire Health and Social Care Partnership, Police Scotland, and domestic abuse agencies to implement the new measures.
Councillor Diane Docherty, convener of housing and communities, said: "We know domestic abuse is a significant issue for our communities and are all too well aware of the detrimental impact it has on both adult victims and children.
"We need to take radical action to make an impact and that is why we will not only be working with our Police Scotland colleagues and the courts to use the power of the law but also applying housing legislation in order to address this problem."
Figures from Police Scotland show that 1,395 recorded incidents of domestic abuse were reported in West Dunbartonshire last year.
A total of 900 children were affected by domestic abuse in the same period.
Councillor Caroline McAllister, the council's violence against women champion, said: "It is wrong for victims of domestic abuse to have to flee their home which only adds to their stress.
"We want to reassure victims and their families they can stay in their homes and inform them where they can get the help and support locally."