Man arrested over Rutherglen van attack death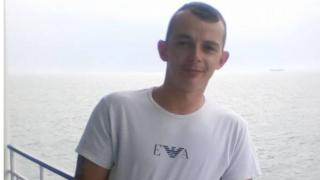 A 33-year-old man has been arrested after another man died when a van struck him near Glasgow.
The dead man, 27-year-old Steven Campbell, was walking with another man and a woman in Burnhill Street, Rutherglen, at about 01:50 when he was hit by the white Ford Transit.
He was taken to the Queen Elizabeth University Hospital but later died.
The police said earlier that they were treating the incident as murder. Mr Campbell's companions were not injured.
Detectives investigating the incident have renewed their appeal for information about the van, which they said may have been damaged as it struck Mr Campbell.
Mary Ann Waldon, 23, knew Steven Campbell while growing up in the local area.
She told the BBC: "I was really devastated to find out this morning that he passed away.
"He was a loveable guy, who just wanted to build people up. He was not a negative sort of person."
Tributes to the father-of-two also appeared on social media.
Friend Chloe Stewart wrote: "Cannot believe what is happening to the good people of Rutherglen week in week out. Rest in Peace Stevie Campbell - you were a good friend to most of my family and to the majority of the scheme. Place won't be the same without you."
Michelle Tait wrote: "Thinking of Stevie's kids and family at this sad time."
One resident of Prospecthill Road, who saw blood on the road surface, told the BBC: "At first, I didn't see the blood, it was the fact there were no cars going past.
"Then I saw the police tape and yellow cones with numbers on them. One of the cones has a trainer shoe next to it and there is blood close by.
"The police have been photographing the road and keeping those needing access to houses away from the evidence area."
Another neighbour suggested the victim may have been dragged by the vehicle after being hit in Burnhill Street.