Inquiry opens into fisherman Scott MacAlister's death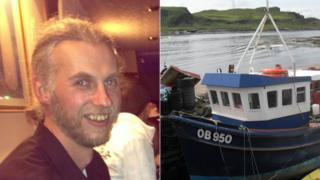 A fatal accident inquiry (FAI) has opened into the sinking of an Argyll fishing boat near Oban five years ago.
Scott MacAlister's body has never been recovered from the creel boat Speedwell that went down off Easdale Island in April 2013.
Oban Sheriff Court heard from a fisherman who had initially gone out with the missing skipper.
Robert Gate said the pump in the hull of the boat was not connected as it should be.
Mr MacAlister, 40, was operating the Speedwell alone when it sank.
Mr Gate told the court the pump could only be activated manually from inside the engine room.
The inquiry also heard from Mr MacAlister's former partner, Victoria McNab, who rejected suggestions he had not been authorised to take the Speedwell out that day.
The FAI continues.