Deportation threat student Denzel Darku can stay in UK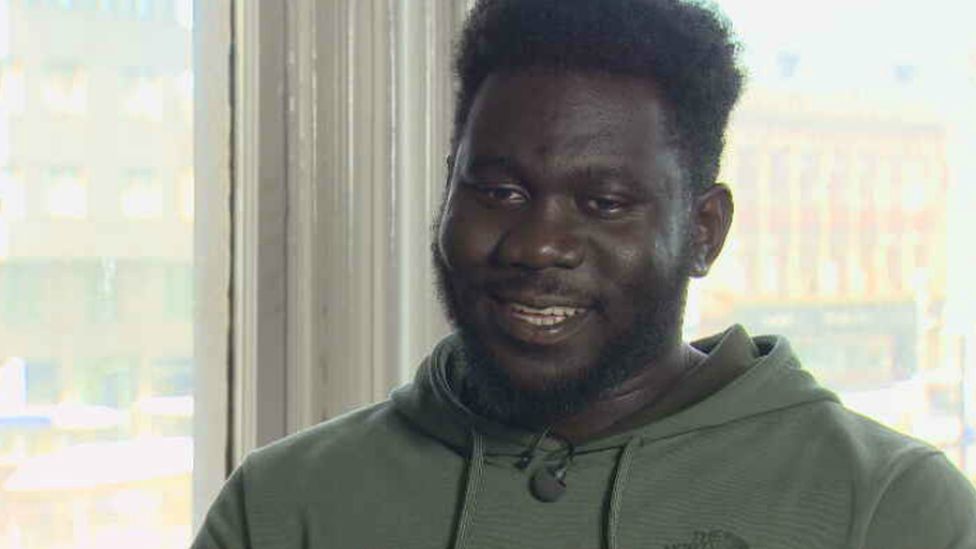 A student nurse who carried the Queen's baton before the 2014 Commonwealth Games has said having the threat of deportation lifted is "a dream".
Ghana-born Denzel Darku, who lives in Paisley, has been granted permanent UK residency following a review.
First Minister Nicola Sturgeon had described his treatment by immigration authorities as "scandalous".
But the Home Office has now confirmed Mr Darku's application for permanent residence has been approved.
Mr Darku, who was forced to give up his university studies because of the visa row, told BBC Scotland: "I'm still in shock, I still don't know how to react because it's been a long time coming.
"For over two years I've been in limbo so I am pleased and happy that at least I can now move on with my life and go back to uni and get back to my studies.
"It gives me a chance to still be in a place where I now call home."
He added: "I can now finish my uni course and work for the NHS because I have always been an enthusiastic person when it comes to caring for people.
"That's all I've wanted to do and for me to stop doing that has been hard going.
"Now I can get my life back and hopefully go on to do greater things."
Analysis by Political Correspondent Glenn Campbell
Denzel Darku's had the threat of deportation hanging over him for two years.
He expected to appear before a tribunal on Friday to appeal against being sent back to Ghana.
But on Thursday morning immigration officials told his lawyer he'd been granted permanent residence.
That follows high-profile media and political interventions on his behalf.
Labour MSP Neil Bibby and the SNP's Joanna Cherry raised his case at Holyrood and Westminster.
The first minister, Nicola Sturgeon, said his treatment by UK authorities was "scandalous".
The Scottish Conservative leader, Ruth Davidson, phoned the Home Secretary on his behalf.
Their efforts seem to have made a difference.
Mr Darku should now be able to resume nursing studies and make a career in the NHS.
But his case leaves big questions about what kind of immigration system we should have.
Mr Darku, 23, moved to the UK from Ghana nine years ago to live with his father, but was fighting to stay in Scotland after two appeals were rejected.
His Ghana-born father Joseph spent several years living in Holland while his son remained in Scotland, but has now returned to Edinburgh and insists he continues to support his 23-year-old son financially.
But Denzel Darku said UK officials had told him he had not been able to prove he was dependent on his father, who is a European citizen.
Mr Darku was elected to the Scottish Youth Parliament when he was a pupil at Paisley Grammar School in 2013, and went on to gain the grades needed to study nursing.
But he was forced to drop out of his degree studies at Stirling University while he went through the appeals process.
Mr Darku said it had been a "scary" time while he waited to find out if he would be allowed to stay in the country.
He said: "I moved over here when I was quite young to a new place, a new city, a different accent. I had to settle in, make friends and start a new life all over again.
"Then to be given a letter (saying) you're supposed to go back where you came from, somewhere I've not been in so long, was quite scary.
"It was like a big wall had been built in front of me, stopping me from getting to where I want to be in the future.
"I'm so grateful that it's been knocked down and I've prevailed through it."
Mr Darku said he had not been able to work or claim benefits while he went through the Home Office appeal system.
He said: "From my experience, the way things were handled could have been better. Not being able to work, not being able to get any help from the Home Office in getting any form of benefits was quite hard.
"But the support of my family and friends has been great and I really don't dwell on the past."
He is now hopeful of returning to Stirling University and eventually becoming a nurse.
He said: "The university has been so supportive. They gave me a leave of absence because they understood my situation and they've been in contact for the past two years asking what the progress of my case has been.
"So I'll have to speak to them to see what they can offer me - I don't really mind, I just want to get back to uni and study again.
"As long as I am still alive I can work to achieve every dream that I set before me."
A Home Office spokeswoman said: "We have contacted Mr Darku's legal representatives today to advise that, following reconsideration of his case, his application for permanent residence has been granted."