Man slashed in 'cowardly' house party attack in Dennistoun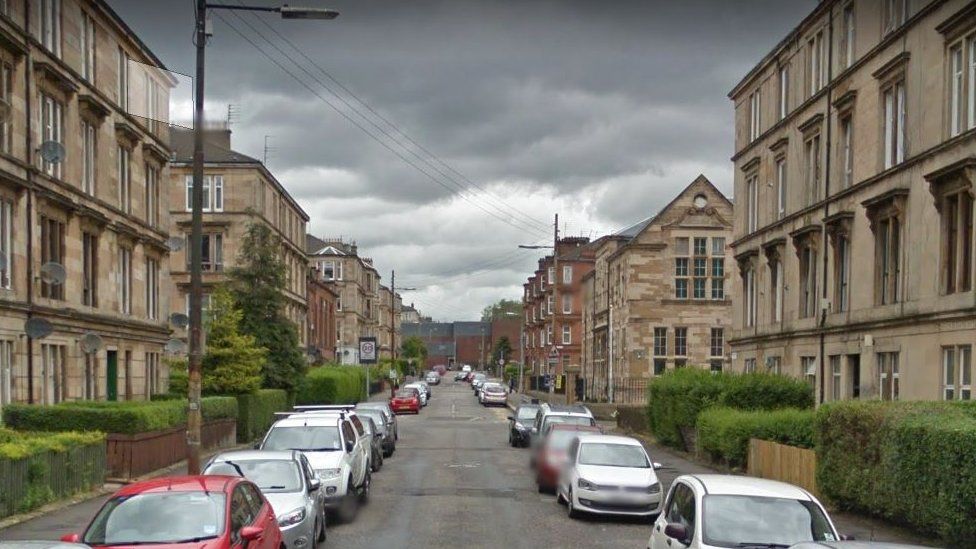 A 27-year-old man is in hospital after his face was slashed at a house party in the Dennistoun area of Glasgow.
Police said the "cowardly" attack happened after three men were refused entry to the party at a flat in Meadow Park Street at about 04:00 on Sunday.
The man was slashed after a fight broke out in the stairwell of the flats. Two other men, both aged 26, suffered minor injuries.
Police said they were studying CCTV and have appealed for witnesses.
All three of those attacked were taken by ambulance to Glasgow Royal Infirmary, where the 27-year-old man remains for treatment.
Medical staff described his condition as stable, but warned that he would be left with a permanent scar as result of the attack.
Witnesses at the party said one of the men who was refused access had tried to get into the flat by scaling a drain pipe outside the property.
Det Con Sean McLoughlin said his officers were keen to hear from any witnesses, especially anyone at a nearby pub called La Cala Bar, who may have seen the men fleeing the scene.
He said: "This attack was as much cowardly as it was vicious and it has left a young man with a permanent scar across his face.
"The suspects had no reason to try and get into the party, it was a private house party for friends, and for this to happen is just awful.
"We are currently checking CCTV and carrying out house to house inquiries, but are keen to hear from people who were in Meadow Park Street early this morning."
He added: "We know that the pub was spilling out at the time and there were a number of people either waiting for taxi or out for a smoke around that time."
Police said that following the attack, the three men ran off along Meadow Park Street towards Glasgow Club Whitehall on Onslow Drive.
One of the suspects is described as white, 5ft 7in tall, aged between 20 and 30, with dark hair, dark eyes and bushy eyebrows and a local accent.
Another of the suspects was described as being white, about 6ft tall and aged between 20 and 30, with red or fair hair. He also had a Glasgow accent and was wearing a grey hooded top with black writing on it.