Older cars face Glasgow city centre ban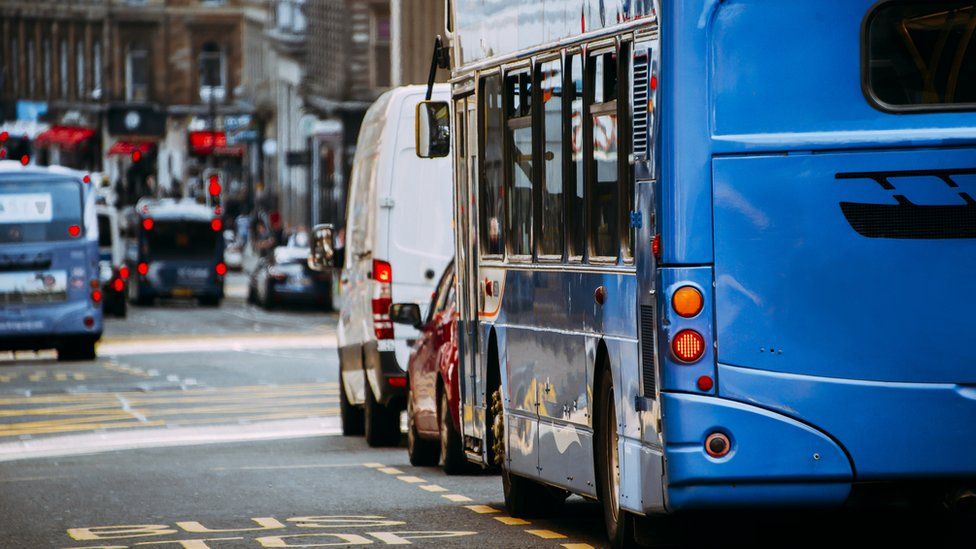 Older cars will be banned from Glasgow city centre in four years time after councillors agreed to extend a low emission zone (LEZ) to all vehicles.
An LEZ will apply to 20% buses from the end of 2018, rising to 100% by December 2022. Cars will need to meet the strict standards from the end of 2022.
After that date petrol cars made before 2005 and diesels built before September 2014 will not be allowed in the zone.
The council said it was "forging a path towards cleaner air".
But environmental campaign group Friends of the Earth Scotland said the timetable lacked ambition, condemning people to illegal levels of air pollution for years to come.
The policy to extend the zone to all vehicles will now be subject to an "economic appraisal" and a consultation exercise over the next 12-18 months.
Anna Richardson, city convener for sustainability and carbon reduction, said: "Improving the quality of the air we breathe is a key priority for the city and so I'm proud to stand behind this progressive policy that will see Glasgow introduce Scotland's first low emission zone by the end of the year.
"Partnership working has resulted in substantial improvements to air quality however it remains a public health concern.
"The LEZ will make significant reductions to air pollution in the city centre and when fully implemented, will cover all vehicles by December 2022. This will ensure we achieve the improvements in air quality our city deserves."
Ms Richardson said the council was working with the bus industry to prepare for the first phase of the new zone.
She added: "I know from the many conversations I've had, that there is widespread support for the LEZ. It's a vital step to ensure our city centre is a welcoming, healthy and pleasant place to be."
The 2022 vehicle ban relates to the type of engine fitted in cars.
Petrol cars will require Euro 4 engines, which were introduced in January 2005, to be allowed in the zone. Diesel cars will require Euro 6 engines, introduced in September 2014.
Drivers entering the zone in cars made before these dates will be fined, with automatic number plate recognition systems being set up around the city centre.
The level of the fine has not yet been set, a spokesman for the council said.
Glasgow Labour have called the SNP administration's plans for the LEZ a "no ambition zone".
The group had proposed bringing forward the inclusion of private vehicles and introducing congestion charging in the city centre.
The amendment was supported by the Greens, but voted down by the SNP and Conservatives.
Related Internet Links
The BBC is not responsible for the content of external sites.