Shock at Glasgow art school fire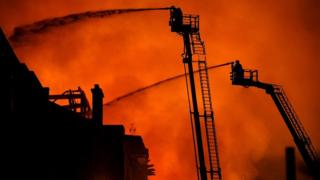 The devastating fire that has engulfed the Glasgow School of Art has sparked shock in Glasgow, across Scotland and around the world.
Internationally recognised, the A-listed building showcased the craft of Charles Rennie Mackintosh, Scotland's most lauded designer.
Its students and staff include some of the world's leading artists, sculptors, illustrators, designers and architects.
"This is a very sad morning in the city of Glasgow," said Nicola Sturgeon."
The first minister added: "Glasgow School of Art is an institution that is loved not just by its students, staff and the people of this city, but by many around the world."
She paid tribute to the emergency services and pledged Scottish government support.
"The professionalism and bravery of the fire service, and the rest of the emergency services, was once again demonstrated last night," she said.
"This is clearly an extremely complex and large-scale incident, and one that is ongoing. I would like to thank the emergency services for their continued efforts.
"The Scottish government stands ready to provide any support that may be required, now and in the period ahead. I have been receiving regular updates and will continue to do so throughout the day.
"The Scottish government's resilience room was activated overnight and will provide any support necessary."
Glasgow School of Art was undergoing restoration work after an earlier fire devastated its library in 2014.
Scottish Secretary David Mundell said the UK government also stood ready to help "financially or otherwise" following the latest blaze.
He told the BBC: "We've helped with the restoration of the existing building - we put in about £10m into that restoration.
"We need to know what's going to be involved if, hopefully, there can be another restoration.
"We stand ready to help again because we recognise now - as we did previously - what an important building this is to Glasgow, to Scotland."
Meanwhile, poet and Scotland's former makar Liz Lochhead, who studied at the art school, said she was "feeling emotional" after learning about the fire.
"When you think of Grenfell you feel anger as well as grief.
"With this, you feel great bafflement as if the god of fire is telling us, you cannot steal back from us something we have earmarked..."
Architect Alan Dunlop told BBC Radio Scotland that he learned of the fire when friends in the United States began contacting him at 04:00.
"I thought they'd sent me a mistake - they'd regurgitated something from four years ago. I couldn't believe that it had happened so soon," he said.
He said photos posted online suggest the internationally-recognised building has been "completely gutted".
"I can't see any restoration possible for the building itself but I hope something can be saved and it can be brought back into life," he added.
He said the Glasgow School of Art was a testament to the skill of Mackintosh as an architect.
'Great loss'
"From a young man when he first started doing the east elevation, right through to this very serious internationally-recognised and very distinguished architect that did the library - the west elevation.
"So it signposted his education as an architect through his career."
Architectural historian Pam Ellis said: "Mackintosh is to Glasgow as Frank Lloyd-Wright is to Chicago and Gaudi is to Barcelona.
"Our loss is so concentrated and so severe as a city if we lose this building.
"I think if it was the case that it was going to be possible to rebuild, we should no matter what the cost because the cost that we suffer from its loss is great indeed."
Other former students have taken to Twitter to express their grief.
They include Travis singer Fran Healy, who said it was "so, so sad".
Alex Kapranos, the lead singer of Franz Ferdinand, also used social media to voice his shock.
Outlander star Sam Heughan urged people in Glasgow to "stay safe".