Pavilion Theatre bosses 'united' with art school after fire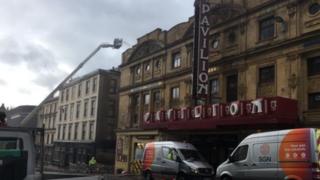 The owners of the fire-damaged Pavilion Theatre in Glasgow have said their "hearts go out" to everyone affected by the Glasgow School of Art blaze.
The theatre has been closed for safety reasons since a fire at the nearby Victoria's nightclub in Sauchiehall Street on 22 March.
A statement from the owners said: "We can all feel their pain and this is the last thing Sauchiehall Street needs.
"The news again is good as it seems that no-one was hurt."
Theatre bosses also praised fire crews whose "experience and courage" showed through.
Firefighters worked for three days to put out the Victoria's blaze, which forced the closure of several buildings and businesses in the Sauchiehall Street, Hope Street and Bath Street areas.
No-one was hurt and an investigation into the cause is continuing.
The Pavillion statement added: "This once-famous street will need public and political help now more than ever.
"Even more businesses are going to close, more people will lose their jobs and it is time for the local council and the Scottish government to show some compassion and assistance to all of those affected."