Out-of-hours service in Greater Glasgow hit by GP shortage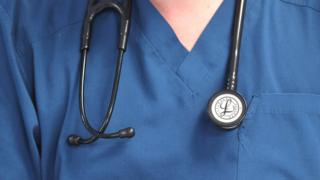 A shortage of GPs in Greater Glasgow affected out-of-hours health care in the city overnight.
NHS Greater Glasgow and Clyde said it did not have enough doctors on duty to staff its out of hours centres between 01:00 and 06:00 on Sunday.
Only the Lomond primary care emergency centre at Vale of Leven hospital in West Dunbartonshire was open.
It meant patients requiring urgent medical care were asked to go to accident and emergency.
A home visiting service was also available.
But some were expected to be asked to wait until the primary care emergency centres opened again at 06:00.
Patients are referred to the primary care centres by NHS 24 when their GP surgery is closed and they are too ill to wait until it reopens.
Patient care
Dr Alan McDevitt, chairman of the BMA's Scottish GP Committee, said the decision by NHS Greater Glasgow and Clyde was not surprising.
"Given the challenges of recruitment and retention of GPs that Scotland faces, issues with out of hours primary care such as this are no surprise," he said.
"It is important the health board plans effectively to ensure that patient care is safe and effective for the period when the Primary Care Emergency Centre is not operating.
"Longer term, it is vital that work continues to ensure that working as a GP is an attractive career choice, and that we focus on retaining the GPs we already have.
"While not specifically concerned with out of hours care, the new GP contract demonstrates the significant efforts being made in this area, which must be built on, along with action to make sure out of hours primary care is sustainable across Scotland."
Earlier this year NHS Fife cut their night-time GP service due to staff shortages.
Patients are no longer referred to centres in Dunfermline, Glenrothes and St Andrews between midnight and 08:00. Instead they are sent to the Victoria Hospital in Kirkcaldy.
The Royal College of General Practitioners (RCGP) in Scotland said GPs in Fife were unable to staff the out-of-hours service, beginning at 18:00, as many had not finished their "in hours" shift.
Research undertaken by BBC Scotland last year found that one in four GP surgeries north of the border had at least one vacancy.
The issue had been looked at by the Scottish government, with the announcement in December of an ambition to recruit an extra 800 GPs over the next 10 years.
A new GP contract, which came into force on 1 April, is designed to reduce workload and improve recruitment.
A Scottish government spokesman said the decision on out-of-hours care was an operational one for NHS Greater Glasgow.
"However, we have sought assurances that the out-of-hours service is working at safe levels and the board will be asked for a clear plan from Glasgow on how to resolve the issue," he said.
"NHS staffing has increased by almost 12,000 under this government. We recognise the particular challenges faced by out-of-hours services and remain committed to having a high-quality service which fully meets patient needs.
"That is why we invested £10m in 2016 and have provided further investment as part of the £23m Primary Care Transformation Fund this year."