Glasgow City Council pays compensation for boy's cemetery death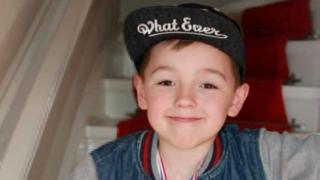 A council has agreed to pay compensation to the family of an eight-year-old boy who died after a headstone fell on him.
Ciaran Williamson was playing with friends in Craigton Cemetery, Glasgow, when the tragedy happened on 26 May 2015.
It is understood the family will receive a six-figure sum from Glasgow City Council.
A sheriff ruled in January that Ciaran's death was avoidable.
A fatal accident inquiry (FAI) concluded that the council did not have "an active system of inspection to ensure the safety and stability of memorials".
The failure to repair a hole in a perimeter wall was also criticised.
Ciaran was playing in the graveyard when a 7ft (2.13m) headstone, erected in the 1920s and referred to as the Ross Memorial, toppled over and landed on him.
The schoolboy's friends raised the alarm but the inquiry heard his death was "instantaneous".
In a statement issued through their lawyers Digby Brown Solicitors, Ciaran's family said: "We are glad the final legal hurdle is over.
"The last three years have been devastating for us - especially during the FAI and having to relive everything.
"However, we're grateful the civil action could be settled so quickly as it means we can start to piece ourselves back together."
The statement also thanked friends, family and the local community who have supported them since Ciaran's death.
Mark Gibson, partner at Digby Brown Solicitors, said: "Ciaran's family have endured a very public agony and in ways very few people can relate to so first and foremost I'd like to pay tribute to them for their courage throughout.
"I can confirm a civil action against Glasgow City Council has now been settled which I hope means the family can start focusing on themselves again."
The inquiry heard that following Ciaran's death, Glasgow City Council carried out a safety assessment at the cemetery and laid flat between 500 and 900 headstones over concerns they were unsafe.
Ciaran's family told BBC Scotland last year that they hoped other children would be warned off playing in unsafe locations.
At the time of Ciaran's death, the family lived next to the cemetery.
A spokeswoman for Glasgow City Council said: "We always aim to deal with claims as quickly and sensitively as possible.
"It wouldn't be appropriate to comment further at this time."