'Lives on the line' as council strike hits elderly and vulnerable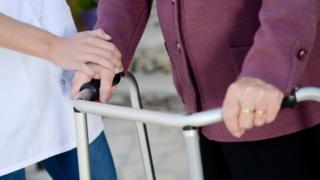 A charity fears lives are at risk as a four-day council workers' strike prepares to enter its second day.
There has been serious disruption to local services in East Dunbartonshire as industrial action continues over pay and conditions.
The charity Age Scotland says it is concerned about the emergency arrangements for elderly and vulnerable people who receive care in their own homes.
It fears "lives could be on the line".
The council was due to discuss the arrangements at a meeting on Thursday evening.
Brian Sloan, Chief Executive of Age Scotland said: "It is absolutely vital that those older and vulnerable people in East Dunbartonshire classed as needing critical and substantial care do not go without the support they need.
Exemption
"Lives could be on the line.
"The council and unions must come together and ensure that there is, at the very least, a 100% exemption for staff caring for older vulnerable people and work hard to resolve the dispute."
It is expected that the council will look at using agency or NHS staff.
The strike has closed all schools and nurseries in East Dunbartonshire between 21 and 26 June after council staff walked out.
Leisure centres, libraries, museums and community hubs have also closed during the action, the council said.
Teachers are not involved in the strike, which is being held by members of the GMB, Unite and Unison unions.
Even though teachers are not taking part in the strike, the council said it would need to close schools for health and safety reasons.
A statement issued by East Dunbartonshire Council on Wednesday said: "In an effort to avoid strike action the council made a further offer to the trades unions this morning to allow further time for negotiation on the areas being identified as of most concern.
"To enable those further negotiations the strike would need to be suspended.
"Regrettably the trades unions declined this further offer and their strike action will go ahead as planned on Thursday 21, Friday 22, Monday 25 and Tuesday 26 June."
Unions notified the council of the strike action on 12 June. The four-day strike will be followed from 2 July with a "work to rule" action.
Simon Macfarlane, regional organiser for Unison, said: "Having voted by 93% margin to take strike action, Unison is implementing our members' decision to stand up to the devastating cuts they are facing.
"Our members don't want to take strike action but they have been left with no choice."