Union says council's handling of strike is 'shambolic'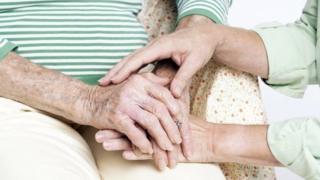 A war of words has broken out over emergency arrangements for vulnerable people during a council strike.
Council staff in East Dunbartonshire are in the second day of four days of strike action over pay and conditions.
The union Unison says members have not been able to cover so-called life and limb shifts during the action because of "ludicrous" management demands.
The council said it was disappointed the strike had gone ahead while talks were taking place between both sides.
Unison says management is responsible for any problems providing care for the vulnerable.
On Thursday, the charity Age Scotland expressed concern that "lives could be on the line" because of the emergency arrangements.
Simon Macfarlane, the union's regional organiser, said the council's handling of the situation had been "shambolic".
He said that, in line with union law, the council had been notified of the planned strike dates a fortnight ago.
Critical services
He said: "In any dispute we offer to provide life and limb cover and we offered to exempt enough of our members to provide a life and limb service.
"But management's handling of this situation has been shambolic."
Mr Macfarlane claimed management asked for "ludicrous" proposals to exempt staff from striking.
He said the council wanted to exempt staff working in areas like licensing and trading standards as well as those providing critical services like care for the elderly and vulnerable.
The failure to reach an agreement meant the union was not able to completely exempt those providing a life and limb service.
Instead, members in these fields were asked to work half of the shifts they were due to do on the strike days.
'Further concessions'
Vaughan Moody, joint council leader and leader of the Scottish Liberal Democrats group, said: ''I am very disappointed and angry that this strike action has gone ahead in the midst of a period of negotiation between officers and union leaders.
"These talks had already resulted in significant concessions to address some of the main concerns of the unions.
"An offer had been tabled to reduce the proposed three-day cut in holiday entitlement to one day, and some of the reductions in overtime pay had also been addressed.
''There was also an offer of some possible further concessions had negotiations continued this week and the strike action had at least been postponed. But this was flatly rejected out of hand by union leaders, who seemed determined to press ahead with a strike, even as negotiations were still ongoing.
''The public can only suspect this was to cause the maximum disruption to residents and council services, especially to our schools."
He added: ''The measures proposed by the administration in East Dunbartonshire were a bid to protect jobs and services, not threaten them, and even at this stage I would urge the unions to call off this strike action and get back to the negotiating table in a constructive manner.''