Mackintosh Hill House appeal passes £1m milestone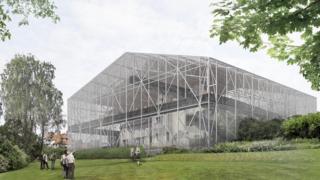 Donations worth £1m have been received after an appeal to save the Hill House in Helensburgh.
The property, designed by Charles Rennie Mackintosh, has been threatened by the effects of water penetration.
The National Trust for Scotland (NTS) appealed in February for £1.5m in donations towards the £4.5m total cost of a major renovation project.
Work will begin on 5 July, with a giant mesh box being constructed around the house.
It is expected to remain in place for at least five years, protecting the property from the worst of the weather.
The NTS has described the Hill House as "Charles Rennie Mackintosh's architectural masterpiece".
It said the appeal for funds to secure the building was one of the most ambitious in its history.
Global appeal
NTS general manager for Glasgow and West, Richard Williams, said: "The support we've had for the campaign has been incredible - people from across Scotland, the UK and the world have donated what they can to save the Hill House.
"It is testament to the property's importance and Mackintosh's global appeal.
"We're very grateful to Robert Barr's Charitable Trust for its contribution to the campaign, which has taken us past this significant milestone."
Mr Williams added: "We still have £500,000 to raise if we want to protect this iconic piece of Scottish architecture."
Once the mesh box is constructed, the site will open to the public.
Raised walkways will enable visitors to see every level of the house during the renovation work.