Funding appeal for Iona Abbey upgrade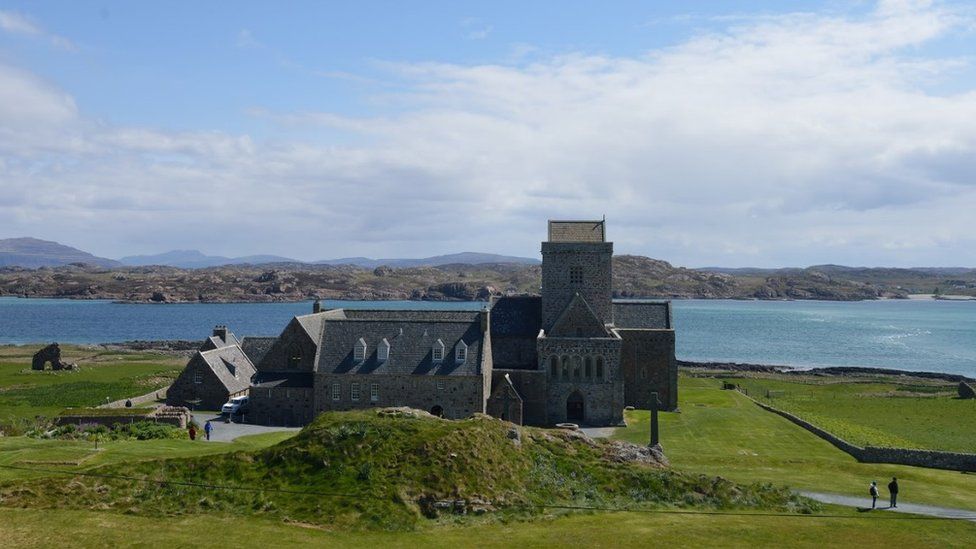 The Iona Community has started a fundraising drive to help pay for repairs and upgrades to the Hebridean island's famous abbey.
The group which runs the abbey has already raised £3m to modernise the building, which was rebuilt from ruins 50 years ago.
However, it said without further investment the abbey would be unfit for purpose within seven years.
Iona is the birthplace of Christianity in Scotland.
It is a popular destination for tourists and pilgrims.
The Iona Community was established in 1938, offering a place of worship and community in the rebuilt abbey living spaces. It attracts about 1,500 residential visitors every year.
The community wants to raise an extra £500,000 to adapt the abbey for wheelchair users, install a renewable energy heating system and winter-proof the building.
Speaking on the BBC's Good Morning Scotland programme, the joint leader of the Iona community, Reverend Kathy Galloway, said: "To meet people's expectations today, we really require a lot of improvement, particularly for mobility access.
"Getting disabled access in a medieval building, with many levels of listing, is quite a challenge but that needs to be done.
"A lot of the infrastructure, in terms of all the kind of facilities that are available for people, needs to be significantly improved."
She added: "We have raised a magnificent £3m to date. Another £500,000 is all we need to cross the line.
"We are hopeful that people in Scotland and beyond will recognise the great need to safeguard Iona Abbey as a living place of hospitality, and ensure that thousands more people can visit this special place seeking sanctuary and inspiration."
The Iona Community will work in partnership with Historic Environment Scotland and Iona Renewables.
If the funding appeal is successful the community hopes to have the new facilities in place by Easter 2020.
Related Internet Links
The BBC is not responsible for the content of external sites.