Orphaned boy granted asylum in Glasgow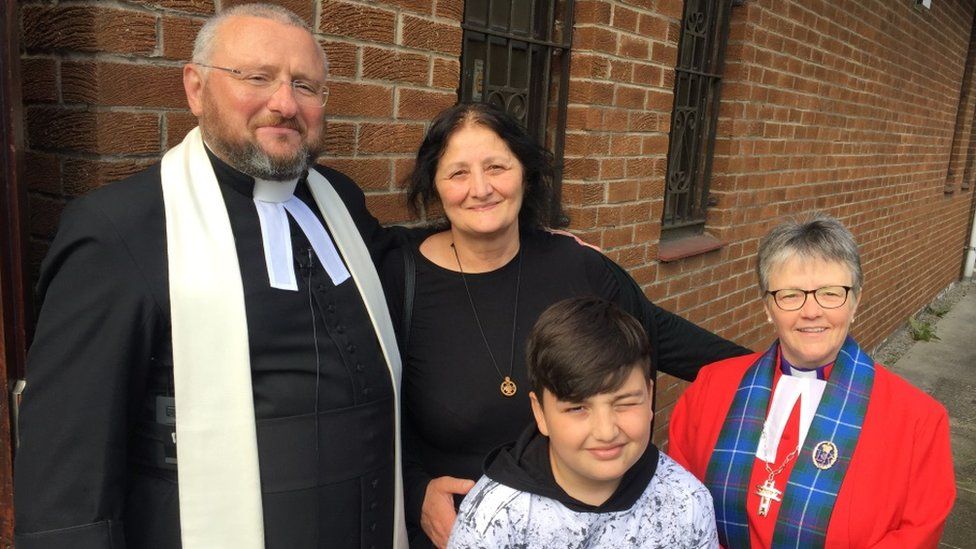 A 10-year-old boy who faced deportation from Glasgow to Georgia after being orphaned has been granted asylum.
Giorgi Kakava moved to Scotland with his mother Sophie when he was three, after his father was killed.
His case was raised by politicians at Westminster and Holyrood, and more than 71,000 people signed a petition supporting him.
The orphan has now been granted asylum by the Home Office, meaning he will be able to complete his education in Scotland.
His grandmother, Katie Baikhadze, has also been given leave to remain in the UK for at least two more years so she can continue to look after him.
Ms Baikhadze moved to Scotland 14 years ago, and was joined by her daughter and grandson in 2011.
She told BBC Radio Scotland's John Beattie programme that the family had "a very, very hard life" in Georgia, and said her daughter had begged her to look after Giorgi before she died in February.
The family's case was taken up by Rev Brian Casey, the minister at Springburn Parish Church in Glasgow, who gathered more than 71,300 signatures via an online petition.
He claimed gangsters in Georgia had threatened to kill Giorgi over a debt owed by his father, saying he had come to Scotland "seeking safety".
Rev Casey said: "I am so pleased that the Home Secretary has intervened in this case and has secured Giorgi's future here in Scotland with his grandmother.
"We now need to ensure that there is as little disruption as possible in his education and his life."
Prime Minister Theresa May pledged to have the Home Office look at Giorgi's case after it was raised at Westminster by Glasgow North East MP Paul Sweeney.
'Absolutely heartbreaking'
It was also raised at Holyrood by local MSP Bob Doris, leading First Minister Nicola Sturgeon to call the situation "absolutely heartbreaking".
Mr Doris said it was "shocking" that Giorgi had been threatened with deportation in the first place.
He said: "I am delighted that Giorgi and his grandmother have been able to stay in Glasgow despite the degree of uncertainty that remains - the hard work by Reverend Casey at the Church of Scotland has paid off.
"But this can't just be a reprieve for one young boy while thousands more across the country are threatened and sent back into danger."
The decision to let Giorgi stay in Glasgow was also welcomed by Susan Brown, the moderator of the general assembly of the Church of Scotland, who said it was "tremendous that he will be able to complete his schooling".