School's tribute to 'smiley, happy' Alesha MacPhail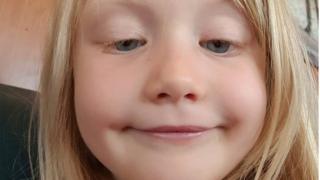 The head teacher of the primary school attended by a six-year-old found dead on the Isle of Bute has described her as a "happy, smiley" girl.
Investigations are continuing after the discovery of Alesha MacPhail's body in woodland on the site of a former hotel in Ardbeg Road on Monday morning.
She had been reported missing from Rothesay two-and-a-half hours earlier.
The head teacher of Chapelside Primary in Airdrie said Alesha would be "greatly missed".
'Considerate child'
In a statement released through North Lanarkshire Council, Wendy Davie, said: "Alesha started with us in August 2016 and had just finished Primary 2.
"She loved being at school and enjoyed all aspects of literacy, in particular writing. She was such a perfectionist in her handwriting and was very proud of her work.
"Alesha was very friendly and she welcomed everyone first thing in the morning at breakfast club. She was a very considerate child who loved being part of a group and she was popular with all the other children and was a smiley and happy young girl."
The head teacher added: "She was part of the family of Chapelside Primary and she will be greatly missed by everyone at the school. Our thoughts and prayers are with the family, friends and Chapelside Primary community at this very sad time."
The primary school is in Airdrie where Alesha's mother is understood to live.
Tariq Ali is the shopkeeper at Lifestyle Express in Chapel Street next to the school.
He heard the news on Monday but did not realise it was the little girl he knew. He told the BBC: "It is very tragic, very sad. She would come in most mornings into the shop to buy snacks for playtime with her mum, sometimes with her dad.
"She was a lovely wee girl, they are a very nice family. I'm just speechless to hear it was actually her.
"She was a confident wee girl. She would know what she wanted, she would pick her snacks herself - just a happy normal six-year-old child. It's just a shame."
Mr Ali said one of his customers had pointed out to him that it was the girl he knew who went to the school next door.
He said: "We are all in shock. Obviously they had friends and family here as well so it has had an impact on the community.
"I can't imagine what the family is going through."
It is thought the six-year-old had been staying on Bute with her father and grandparents.
Her grandmother Angela King posted an appeal on social media on Monday morning asking people to help search for the missing six-year-old.
Detectives are treating the death as unexplained.
On Tuesday morning, a large police presence remained on the Scottish island, with local officers reinforced by colleagues from the mainland.
Forensic experts have been examining the area, while detectives carry out door-to-door inquiries and speak to people travelling on and off the island.
High Road in Ardbeg, near Rothesay, was shut by a police cordon and a floral tribute had been laid near police accident signs.
A separate cordon was set up outside houses on Ardbeg Road and police tape set up at the seafront on the opposite side of the street.
After confirming the body found was that of Alesha MacPhail, police again asked for anyone involved in the search to come forward.
The senior investigating officer, Det Supt Stuart Houston, said it was vital they knew who was involved in the searches and where they were carried out.
He said: "Whilst we have had a very encouraging response from our appeal yesterday, I would continue to appeal to those who took part in the search for Alesha when she was reported missing.
"Those individuals may have critical information which could assist with our inquiries."
'Tight-knit community'
Messages on floral tributes laid outside the homes read "sleep tight little angel" and "forever in our thoughts".
The death was said to have impacted all those living in the "tight-knit community".
The Rev Owain Jones is parish minister at the United Church of Bute.
He said: "I think my personal reaction is just the same as everybody else's - I am stunned.
"And I am lost for words and this is not something we are used to in our community. Whatever it is, it's just tragic."
Councillor Len Scoullar said: "Everyone is very shocked, very sympathetic and concerned.
"We will all be offering our very sincere condolences to the family.
"We are a very small island community, people are genuinely grieving for the family."
June McKenzie, who lives near Alesha's grandmother on Ardbeg Road, was one of those searching for the youngster.
She said: "We were woken up at 7am and we were told she was missing, could we look for her.
"I looked in the garage and workshop and we saw that the search and rescue helicopter was out.
"I can't believe it. Her poor parents and gran. It's just appalling - somebody that young."