Police treating Alesha MacPhail death as murder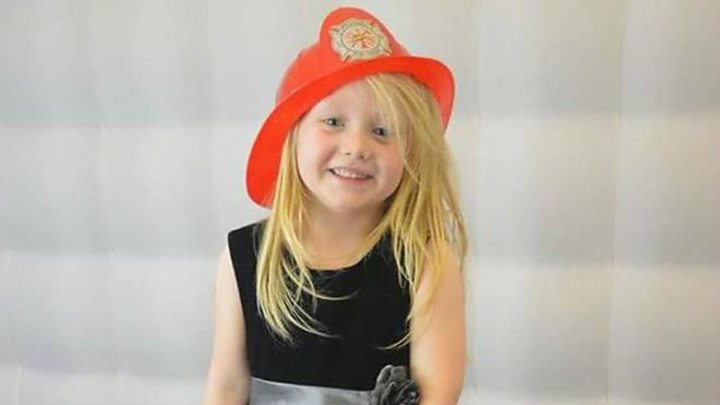 Police on the Isle of Bute have confirmed schoolgirl Alesha MacPhail was murdered.
The case has become a murder inquiry following a post-mortem examination on the six-year-old, although detectives have yet to say how she died.
Officers also confirmed a car was among a number of items recovered by them as part of the ongoing investigation.
Alesha's body was found by a member of the public in woodland on the site of a former hotel on Ardbeg Road on Monday.
She had been staying at her grandmother's house but was reported missing at about 06:25.
Her body was found half a mile away less than three hours later.
What we know
Sunday 1 July - Six-year-old Alesha, from Airdrie in North Lanarkshire, was a few days into a three-week summer break visiting relatives on the island of Bute. It is understood she was staying with her father Rab MacPhail and her grandparents, Angela and Calum King, in a house in Ardbeg Road, between Rothesay and Port Bannatyne.
06:25 Monday 2 July - Alesha is reported missing. Grandmother Angela King posts appeal for help on Facebook.
About 09:00 Monday 2 July - Alesha's body is found by a member of the public in woodland on the site of the former Kyles of Bute hydropathic hotel - about half a mile from where she was staying.
Tuesday 3 July - A post-mortem examination is held and police confirm they have launched a murder inquiry.
Det Supt Stuart Houston, from Police Scotland's major investigation team, said Alesha's family was "utterly devastated" by what had happened.
He said: "Like any other six-year-old, Alesha was looking forward to enjoying her holidays from primary school and was only a few days into a three-week summer break visiting relatives on the island.
"For such a young girl to have her life taken away is incomprehensible."
Det Supt Houston said he was keen to speak to anyone who was involved in a search for Alesha that took place just before 06:00 on Monday.
He said: "I'm keen to find out who was there that has not engaged with the police yet, what areas they maybe searched and anything they may have seen or heard at the time.
"I am also now really keen to speak to anyone who was in the area of Ardbeg Road from late on the Sunday evening, into the early hours of Monday morning."
Referring to rumours
Det Supt Houston said he wanted to hear from anyone who had seen or heard anything unusual at that time.
He said police were exploring a number of lines of inquiry and were now trying to piece together the timeline between Alesha going missing and her body being discovered.
He urged people to come forward with information, no matter how insignificant they may consider it to be.
Referring to rumours that Alesha sleepwalked, Det Supt Houston said police were looking at all possibilities.
He would not reveal the cause of death.
Ch Supt Hazel Hendren, the local police commander for Argyll and Bute, said officers would be on patrol in the area all day and night.
"Every available resource from across Police Scotland is being made available to this major investigation," she said. "Our absolute priority is catching the person responsible for this horrendous act as quickly as possible.
"I understand that there will be a high level of concern among people living in this close-knit community but I want to reassure people that everything possible is being done."
She added: "It's very important that people are vigilant. I would also ask the community and holidaymakers to look out for each other and please look out for your families and the security and safety of your homes."
"Anything that is worrying or concerning please address the officers."
The isle of Bute
Bute is an island in the Firth of Clyde, easily accessible from the west of Scotland via a regular 35-minute ferry from Wemyss Bay in Inverclyde.
The island has a population of about 6,500 people and the main town is Rothesay.
It established a reputation as a popular tourist destination in the Victorian era.
Generations of holidaymakers from the Glasgow area have made the trip "doon the watter" to Bute on a paddle-steamer.
'Stunned by the death'
Earlier, the head teacher of the primary school attended by Alesha had described her as a "happy, smiley" girl who would be "greatly missed".
The primary school is in Airdrie where Alesha's mother, Georgina Lochrane, is understood to live.
Reverend Owain Jones said people had been "stunned" by the death and subsequent murder investigation.
'Stunned silence'
He has opened his United Church of Bute in Rothesay to allow people to visit at any time.
Rev Jones said: "We're all absolutely staggered, we have no words for this and it's beyond any power of words to express.
"We're all just really sitting in a kind of shared stunned silence just trying to uphold each other.
"Bute is one of these places that is incredibly safe, you take all sorts of things for granted here and don't panic if you forget to lock the house or whatever."
Farmer David McVey told BBC Radio Scotland's John Beattie programme: "Everybody on the island is feeling it and it is so heart-breaking.
"It is tragic, absolutely tragic."
Mr McVey said the girls who help clean out his horses knew Alesha.
And he said every conversation on the island inevitably turned to the murder.
He added: "I'm taking phone calls about other matters and the first thing people are talking about is what has happened.
"You genuinely feel like you want to start crying because it is so emotionally upsetting.
"It is just unbelievable."