Woman jailed for three years over boyfriend death crash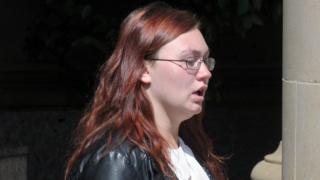 A woman broke down in the dock as she was jailed for three years for killing her boyfriend in a car crash.
Natasha Scott, 21, lost control of her Vauxhall Corsa after speeding on the B7024 from Maybole to Ayr on 24 July, 2016.
Scott's car ploughed into a fence, brick wall and telegraph pole before coming to a halt.
Kai Milligan, 21, who was a rear seat passenger, died while three teenagers also in the car were left hurt.
One of them - a 15 year-old boy - needed major surgery to reconstruct his face following the crash.
'Negotiate a hill'
The others suffered minor injuries.
Scott pled guilty at the High Court in Glasgow last month to causing death by dangerous driving and injuring the other passengers.
Judge Lady Stacey told her: "You know your dangerous driving caused the death of Kai Milligan and you have to live with that knowledge.
"You also caused serious injury to another young man.
"The accident happened because you failed to negotiate a hill crest and a left hand bend.
"Your exact speed cannot be ascertained but you increased your speed on the straight and failed to decrease it despite there being a bend and signs on the road to slow down.
"You knew that road having driven it many times."
Infant son
Lady Stacey banned Scott from driving for five years.
Scott's defence counsel Barry Smith had argued unsuccessfully that as the mother of a seven-month-old child, to jail Scott would breach her son's human rights and that of her parents who would have to care for him.
He said: "I would ask that she be given an alternative to jail given the effect it would have on her infant son and her parents and the fact she is assessed as a low risk of re-offending."
Mr Smith added: "She will live with the consequences of her driving that day.
"She blames herself for causing the death of her then boyfriend Kia and injuring her 15-year-old friend.
"She says she thinks about it all the time.
"What she can't bear is the prospect of being separated from her baby."
Clamber free
The crash occurred on the B7024 near Blairston Main Farm in Alloway, Ayr.
Prosecutor Duncan McPhie said Scott had "increased her speed" and - at a hill crest - the car then became "airborne" before she lost control.
The court heard that the Corsa started to "fishtail".
Scott tried to regain control, but her car spun and then smashed into a fence, wall and then a pole.
Mr McPhie told the court: "Mr Milligan - seated behind the driver - sustained fatal injuries as a fence post passed through a side rear window striking him in the face."
The 15 year-old boy was hit in a similar way. Scott, a 17-year-old girl and a 12 year-old boy managed to clamber free.
Scott sobbed as she was led away to begin her sentence.