'I want to go out of business': One man's mission to feed Scotland's children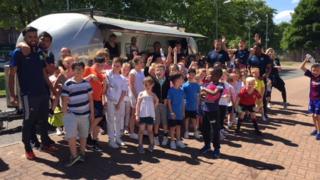 Businessman and former restaurateur Craig Johnson has an unusual mission statement.
He wants to be out of business as quickly as possible.
Sickened by the thought of children going hungry, Craig started Launch Foods, a not-for-profit scheme to feed children in Glasgow.
The social enterprise aims to end hunger for the children of Scotland, with the ultimate aim that his service will no longer be required.
Craig is the captain of a shiny silver rocket ship which arrives every lunchtime at various play schemes in less affluent areas of Glasgow.
'Empty fridge'
When the schools go back in August, the rocket will land at schools in time to give kids a decent snack at the end of the day.
He says he just wants to fill "little tummies" and his hunger for chance comes from personal experience: "I know what it's like to open an empty fridge.
"I know what goes on and I know the only meal some kids get every day is at school.
"It makes me angry that there is a need for this. I was sick of shouting at politicians on the TV.
"I will keep trying to get the politicians to act and this is not a solution but this is something I can do now.
"Scotland needs to get a grip of its knickers and solve this problem. In 2018 and there is no excuse for this situation."
He said: "Every day, our children spend their evenings hungry without a proper meal and the situation gets worse over summer with the absence of school meals.
"Meanwhile, food producers throw away surplus food and now we're doing something to connect the two.
"I am now at the stage where I am asking people to help, or get out of my way because this needs to be done."
The company brings together the need to get nutritious food to those who need it with the problem of surplus food going to landfill.
Craig, whose project is supported by Glasgow City Council, persuades big suppliers to donate surplus food and Launch turns it into nutritious meals and snacks.
All the food on the menu is healthy, packed with vegetables, low in fat and salt, and the packaging used is compostable and biodegradable.
The project's name comes from the van used to deliver the food - the American-style "Airstream Rocket caravan".
Craig thinks the way this help is presented to the children is really important: "We don't want children to feel stigmatised so we give our meals to everyone who turns up.
"It was important to give this to the kids in a way that they think is cool."
Other local authorities in Scotland, such as North Lanarkshire Council, have holiday hunger schemes - either provided by the school meal service or by other agencies.
Free sporting activities
During the school break, Launch is feeding 300 children a day with food prepared at its base in Glasgow's Skypark.
It provided 2,500 meals at Easter camps and by the end of the summer, it will have made 7,000 meals for the children of Glasgow.
Craig is also setting up a Social-Bite-style cafe there to create a steady income to help fund the scheme.
Any surplus profits will be put to good use in the community.
The company has joined forces with the charity Achieve More Scotland, which brings free sports activities to the same groups of children.
Craig wants to bring more big companies on board and welcomes anyone who wants to join his mission.
He also hopes to meet MSPs and get the Scottish government involved in making hungry children a thing of the past.
He said: "I know politicians are doing their best but we can do more.
"Out in these places, you can see the kids that are struggling. That's not acceptable. These are Glasgow's "weans".
"It's a delight to help them. And it could happen to anyone.
"At this point in time if someone has had no hardship in their lives, then they've been lucky."